60 year old Leslee was fed up that she was still getting pimples 'at her age' …so she decided to give our Ecology Moisturisers a go.
After trying a few to find her favourites, Leslee is feeling so much better now that her skin is clearer and she doesn't have to worry about going 'makeup free'
Here's Leslee's story…
"I've always had problems with acne, (I'm in my 60s and still getting pimples)…
I feel like I've tried heaps of the commercial products, but nothing seemed to work in the long term.
Having sensitive skin, I've found some of the shop bought items a bit harsh and sometimes I've had reactions.
I've been interested in natural beauty products for a long time, even making some of my own.
…so thought I would try the Ecology Moisturisers
My favourite ones are the Soothing Baby (yellow label) for sensitive skin and the Daily Moisturiser with Hemp and Nerolina (pink label).
My skin feels beautifully soft.
I hardly have acne any longer, and have beautiful soft skin as a bonus.
Each morning I wash my face, tone and use one of the Ecology Moisturisers. Each night I cleanse, tone and use a different ecology moisturiser.
I always have 2 on the go, 1 for morning and 1 for night. I've also been rubbing it onto the backs of my hands, and age marks don't seem to be as evident.
I hated that I was always getting pimples at my age. Ecology Moisturisers really seem to have helped.
My skin is a lot freer from acne and is lovely and soft. I feel so much better that my skin is clearer. It never worries me now, to go out without makeup."
~ Leslee, loves our Soothing Baby Cream and Daily Moisturiser with Hemp and Nerolina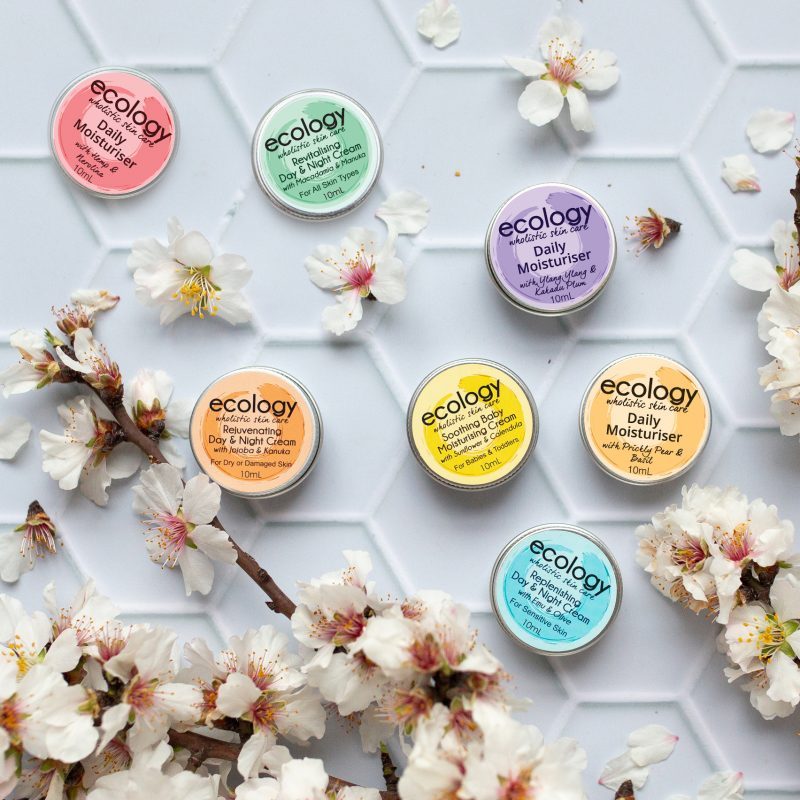 We are beyond happy for Leslee!
It's such a massive win when you finally find something that helps to clear breakout prone skin, leaving skin beautifully soft and smooth and giving you the confidence to leave the house without makeup on.
We find it's people with 'hormonal' acne or breakouts that tend to get the best results with the Ecology Creams…
…but honestly, when it comes to breakout prone skin – everyone's different and it can really depend on what's driving oil production and breakouts.
We tend to think our skin is oily when we're getting breakouts …but that's not always the case.

A number of adults with acne actually have acne tarda or 'dry' acne.
This is where skin is lacking in oils and water.
So when we use those harsher products or treatments to 'get rid of' the oil we think is there, we can strip protective oils and lipids from our skin's outer layer and dry out the skin even more.

…this sets us up for more breakouts.
Now you might be wondering why the Ecology Creams have been so helpful for Leslee…
Our Ecology Creams are handmade with a little known ingredient called grass-fed tallow.
Grass-fed tallow is a gently rendered fat (like emu oil), but it comes from healthy, grass-fed cows
(so this isn't for our vegan friends!)
Grass-fed tallow might be 'little known' now… but everyone from the Aboriginal Australians to our great grandmothers used to use traditional animal fats like tallow, for everything from burns and chafing to blisters and wound healing.
And the reason why grass-fed tallow is so amazing for skin?
It really closely mimics fats and oils found naturally in healthy, youthful skin.
It contains fat soluble vitamins A, D, E & K …all of which are crucial for healthy skin (some of these are also antioxidants)
It's balanced in omega 3's and 6's …both are important for healthy skin
So this means grass-fed tallow (along with the jojoba oil in the Ecology Creams) can help balance oil production and replace missing components in skin's outer layer …keeping moisture IN and allergens and irritants OUT.
…which means grass-fed tallow can also help calm redness and leave skin looking plump, 'healthy' and well hydrated.
Leslee's favourites are our Soothing Baby Cream and Daily Moisturiser with Hemp and Nerolina…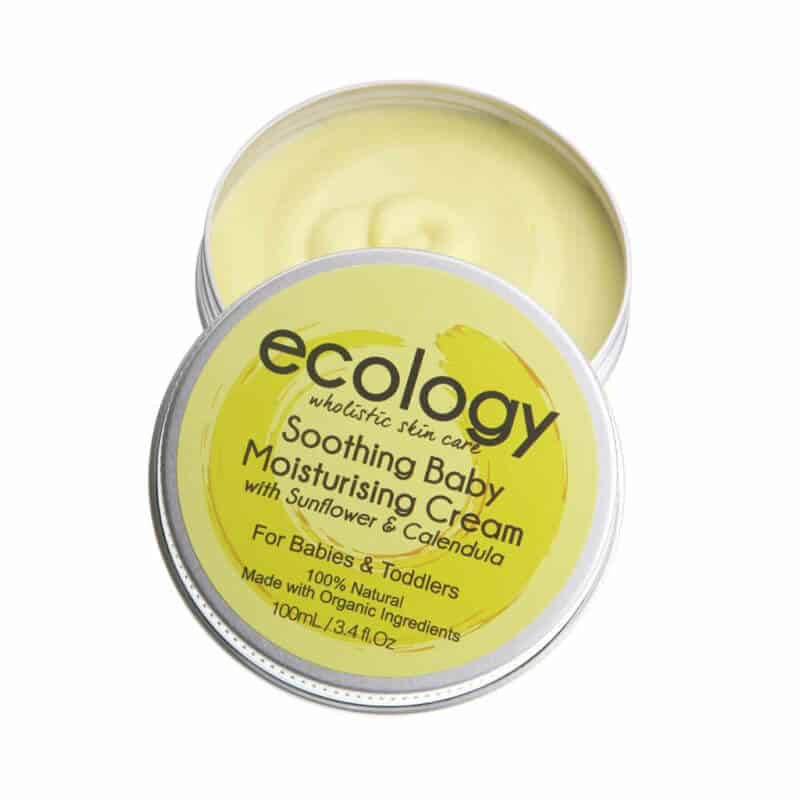 Soothing Baby Cream with
Sunflower & Calendula
Rich and perfect for
baby and toddler or sensitive skin
Click for Ingredients
Grass fed beef tallow*, Sunflower Oil*, Jojoba Oil**, Vanilla Bean Extract, Calendula Extract*, Rosemary Leaf Extract*
*Organic **Grown Pesticide Free *** Wild Harvested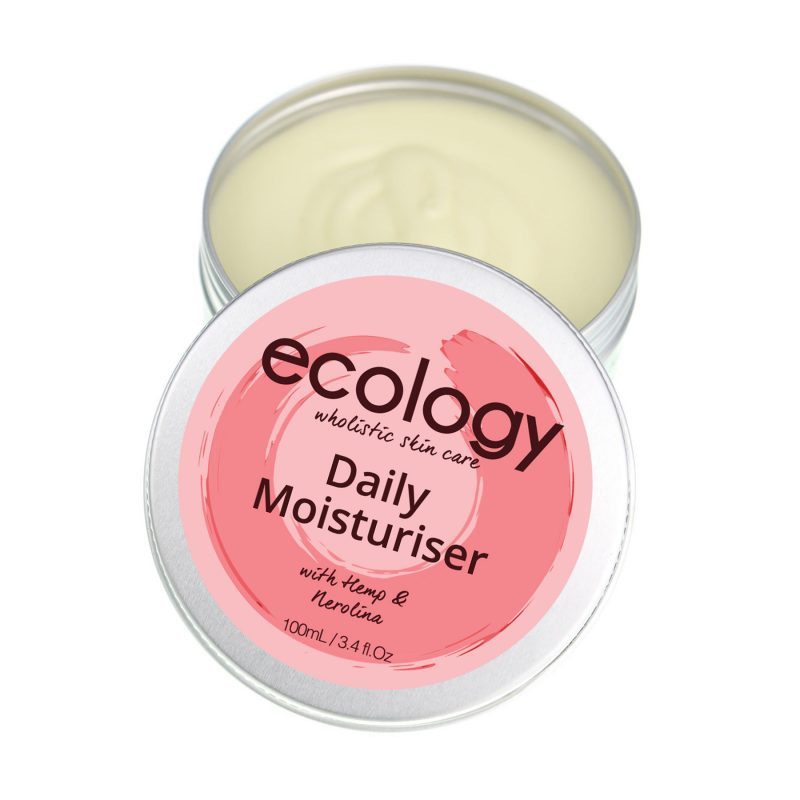 Daily Moisturiser with
Hemp & Nerolina
Rich and perfect for
all skin types
Click for Ingredients
Grass Fed Beef Tallow***, Camellia Oil*, Jojoba Oil**, Hemp Seed Oil, Nerolina Oil, Lemon Scented Tea Tree, Frankincense Oil*, Vanilla Bean Extract, Rosemary Leaf Extract*
*certified organic, **grown pesticide free, ***organic, biodynamic or Tasmanian sourced
We've had good feedback from other customers (like Leslee) who've used our Soothing Baby Cream to help soothe breakout prone skin… it contains only a handful of ingredients, including calendula extract which is known to be helpful for wound healing
And the hemp seed oil in the Daily Moisturiser with Hemp and Nerolina is helpful for balancing oil and for plumping and protecting dry or dehydrated skin. It also contains nerolina and lemon scented tea tree oil which have been shown to have anti-inflammatory and anti-microbial properties.
Like Leslee, I have a drive to use natural products on my skin.
And it was my super sensitive skin and skin issues that led me to developing the Ecology Creams in the first place.
…I'd finally found something that worked well for me and I wanted to share it with others
And because I know how important it can be to try a 'trial size' of something before getting a larger size, we've put together Trial Packs of our Ecology Creams.
You can now try a 2-pack or 3-pack of our 10mL mini moisturisers from only $18 (so only $9 per moisturiser) …and get free shipping when you use the code: TRIAL at checkout
and see for yourself the difference an Ecology Moisturiser can make for sensitive and problem skin
(this is a great size! It'll last a couple of weeks, long enough to see the calming effect for yourself)
So click on the button below that best describes your skin to see which moisturisers are right for you…
Crystal,
Ecology Skincare