Crystal is a podcaster, mindfulness leader and real food advocate with super sensitive skin and a history of adult acne and eczema. Her skin was always up and down. Clear or breaking out, calm or flaring up.
So she knows how painful, embarrassing and frustrating it can be dealing with skin issues and finding skincare products that help to calm red, dry, itchy, flakey skin, so you can stop feeling self conscious and ashamed of problem skin.
A salicylate sensitivity meant that coconut oil, essential oils and beautiful cold pressed oils, like rosehip oil, left her skin red and rashy. And as someone who chooses to eat high quality, nutrient-dense whole foods, she wanted to take this same approach with her skincare.
When Crystal could not find a natural, chemical-free moisturiser that met her personal standards and didn't irritate her sensitive skin, she spent 12 months researching and developing her own.
Crystal went right back to traditional principles, looking at what our great-grandmothers would have used on their skin.
After much research, she found that the traditional fats like tallow, ghee and lard, which were shunned for many years and now becoming more popular, are not only incredibly nourishing from the inside, they are also deeply nourishing when used topically and have an extended history of use through out the ages.
So she began experimenting.
The Ecology Creams were originally created in her kitchen, and are among the few moisturising products her sensitive skin will tolerate.
When she started giving her home-made Creams to family and friends who also had sensitive skin, their feedback was fantastic!
But then, amazingly, when she started giving them to family and friends who didn't have sensitive skin, they loved that the Creams made their skin feel so soft and smooth! … And they wanted more!
So Ecology Skincare was born. Tried and tested on Crystal, then family and friends.
Now available to you.
We hope you enjoy our beautiful skincare products!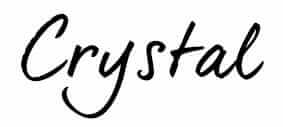 You can find out more about Crystal HERE