What retiree Marie puts on her skin is just as important to her as what she eats…
Marie likes a simple skincare routine and her Rejuvenating Cream fits in perfectly – it's softening her skin compared to other moisturisers and she thinks it's also softening the look of her fine lines.
Here's Marie's story…
"I'm a 64 year old wife, mother and grandmother. I have never really had a solid skincare routine – slapping on a face mask was something my sister and I occasionally did for fun.
And I was never big into makeup while growing up (apart from the 'blue eyeshadow' phase in the 70s!)
I'm a simple 'girl':
– Cleanse with a natural face wash.
– Occasionally use a toner.
– Moisturise with the day and night cream unless I am spending a lot of time in the sun – then I will use a simple moisturiser with SPF. I haven't yet found a natural sun block that I like.
– I still try a face mask a couple of times a year 🤣
I have been retired for quite some time so no longer feel the need to "put on a face" for an audience.
There was nothing that concerned me [about my skin] other than age and the lines that come from living.
But I am very concerned that what goes on my skin is just as important as what in eat – eventually it all goes into my cells.
I was intrigued by the natural elements of Ecology Skincare – and the fact that there is not an overly large selection!
Being able to purchase the sample set was great.
While I loved all the products the Rejuvenating Cream is my favourite… something about the smell reminds me of childhood (no idea what it is).
The fact that I need to use a very small amount is also great.
I can't say it has changed my life in any way, but I do feel that I am doing the best for my skin for the long term.
I can say that my skin feels softer and, while the wrinkles are definitely still there, I would like to think that they are not so deep…"
~ Marie, likes our Rejuvenating Cream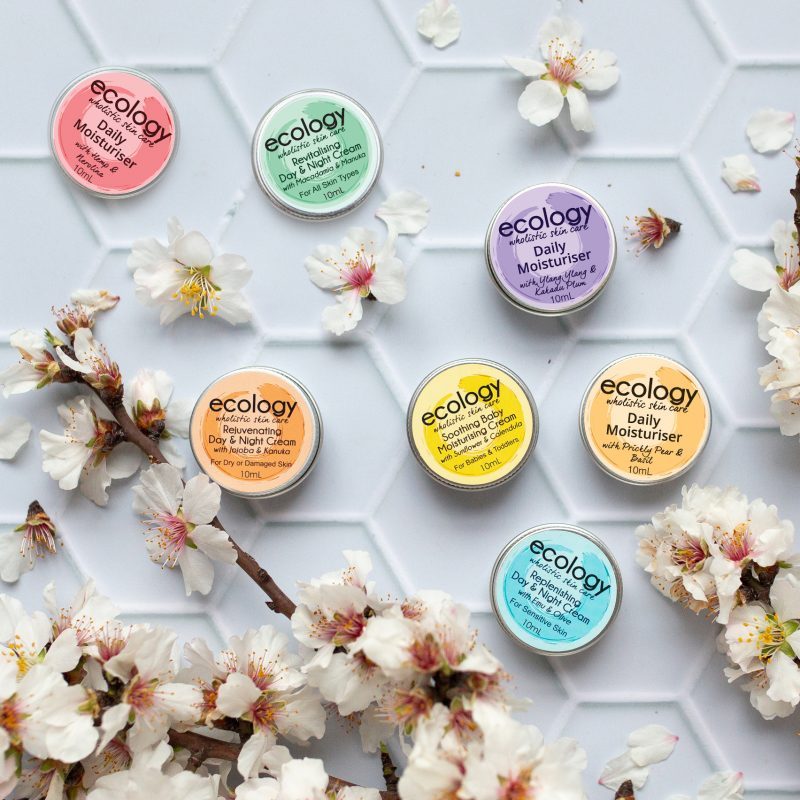 We are beyond happy for Marie!
It's always a win when you find something that helps to soften dry skin and soften the look of fine lines…
(as well as fitting in with your simple skincare routine and ethos on reducing chemical exposure with natural products) 
Now you might be wondering why the Ecology Creams are different to the other moisturisers Marie's used…
Our Ecology Creams are handmade with a little known ingredient called grass-fed tallow.
Grass-fed tallow is a gently rendered fat (like emu oil), but it comes from healthy, grass-fed cows
(so this isn't for our vegan friends!)
Grass-fed tallow might be 'little known' now… but everyone from the Aboriginal Australians to our great grandmothers used to use traditional animal fats like tallow, for everything from burns and chafing to blisters and wound healing.
And the reason why grass-fed tallow is so amazing for skin?
It really closely mimics fats and oils found naturally in healthy, youthful skin.
It contains fat soluble vitamins A, D, E & K …all of which are crucial for healthy skin (some of these are also antioxidants)
It's balanced in omega 3's and 6's …both are important for healthy skin
So this means grass-fed tallow can help replace missing lipids (the natural fats and oils) in skin's outer layer …keeping moisture IN and allergens and irritants OUT.
…and helping to soften dry skin and leave it looking plump and well hydrated.
Not only that, as we get older, our skin produces less of those lipids (the fats and oils) that keep it soft, supple and youthful looking.
…so grass-fed tallow is putting back what time takes away.
So why is it the big brand moisturisers fail to really nourish super dry skin?
It's because big brand moisturisers are typically 50-80% water (or aqua)
Take a look and you'll see water as a first ingredient in many of these products.
But this means, there's only 20-50% left for the skin nourishing ingredients.
Compare this to the Ecology Moisturisers..
they're are 100% natural fats and oils (no water), so they're highly concentrated to better soften skin and smooth out the look of fine lines.
Marie tried our Dry Skin Trial Pack to start and her favourite is our Rejuvenating Cream with Jojoba and Kanuka…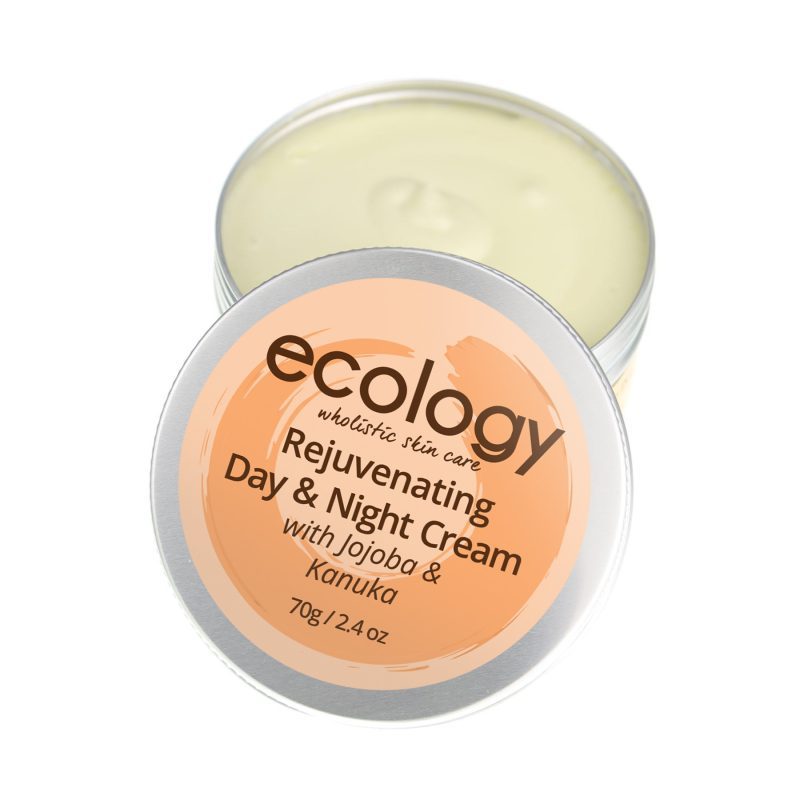 Rejuvenating Cream
with Jojoba & Kanuka
Ultra rich and perfect for
dry and damaged skin
Click for Ingredients
Grass fed beef tallow*, Jojoba Oil**, Extra Virgin Olive Oil*, Kanuka Oil***, Vanilla Bean Extract, Rosemary Leaf Extract*
*Organic **Grown Pesticide Free *** Wild Harvested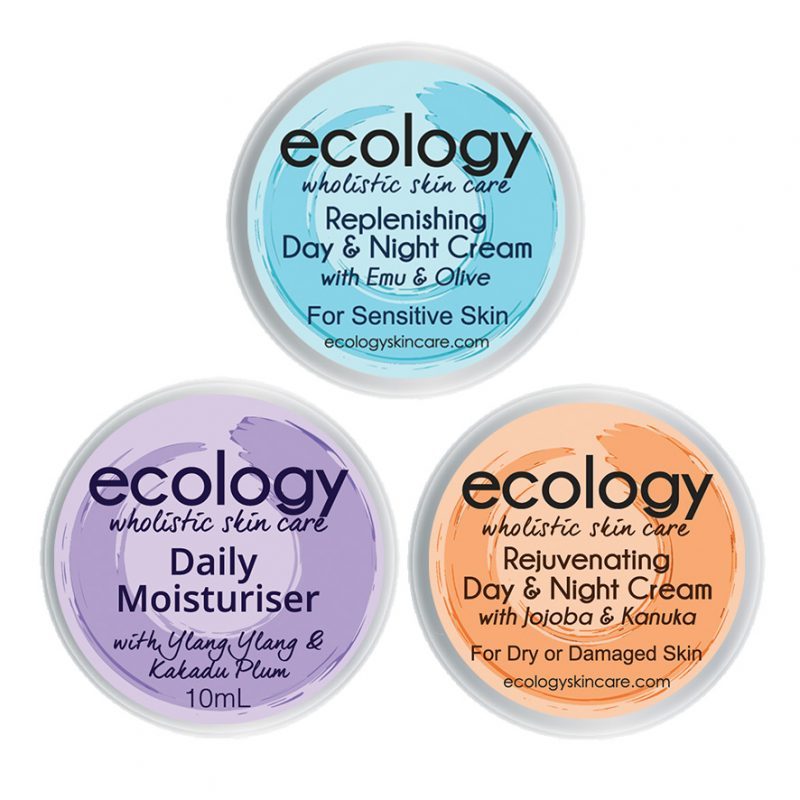 Dry Skin
Trial Pack 
10mL mini trial sizes of the Ecology Creams we suggest trying for Dry Skin
Click for Products
Rejuvenating Cream, Replenishing Cream, Daily Moisturiser with Ylang Ylang
We've had good feedback from other customers (like Marie) who've used our Rejuvenating Cream with Jojoba and Kanuka to soften dry skin.
The Rejuvenating Cream is rich and has a simple formulation… it contains only a handful of ingredients, including kanuka oil which is known to be helpful for wound healing and reducing inflammation.
ULTRA-RICH MOISTURISER
For Dry and Damaged Skin
Softens, protects and rejuvenates
For smoother radiant looking skin
Read more
These are our suggestions for Dry Skin
With this trial pack, you can see which suits you best…
Read more
Like Marie, I have a drive to keep my skin care routine simple
And it was my super sensitive skin and skin issues that led me to developing the Ecology Creams in the first place.
…I'd finally found something that worked well for me and I wanted to share it with others
And because I know how important it can be to try a 'trial size' of something before getting a larger size, we've put together Trial Packs of our Ecology Creams.
You can now try a 2-pack or 3-pack of our 10mL mini moisturisers from only $18 (so only $9 per moisturiser) …and get free shipping when you use the code: TRIAL at checkout
and see for yourself the difference an Ecology Moisturiser can make for sensitive and problem skin
(this is a great size! It'll last a couple of weeks, long enough to see the calming effect for yourself)
So click on the button below that best describes your skin to see which moisturisers are right for you…
Crystal,
Ecology Skincare