Are the demands of your work, family and running a household leaving you feeling tense, strung out and beyond tired?
Want to feel calmer, more relaxed and refreshed after a good night's sleep?
The pressures of trying to be a superwoman can leave you feeling wound up, stressed out and beyond tired!
As a busy woman, I know you can often feel like there's just not enough time in the day to do everything.
You might be working full-time, running around after kids and family, and meeting social expectations …all while keeping a tidy house and making sure everyone gets fed properly. Which, can leave you feeling totally strung out, overwhelmed, and beyond tired …especially if you're not sleeping well!
We can wind ourselves up so tightly trying to be Super Women.
And we know we need to relax and take time out for ourselves, but going to a dayspa, or the mineral hot springs with girlfriends, or getting a massage …can just seem so far out of reach.
So instead, we just keep plugging along.
And this just ends up making things worse.
You get really tense, snappy, and irritable with loved ones.
You get less done because you lose focus and you start procrastinating.
And, you use sugar, caffeine, and alcohol to prop you up because you're exhausted.
So you need something that's quick, easy, and guilt-free that will leave you feeling calmer and more relaxed so you can start loving life again.
I've got the perfect solution for you!
…you can take a relaxing retreat from your busy life in your own home with this bag of natural calm.
You can let go of your day and replenish your skin, relax your body and calm your mind in as little as 20 minutes.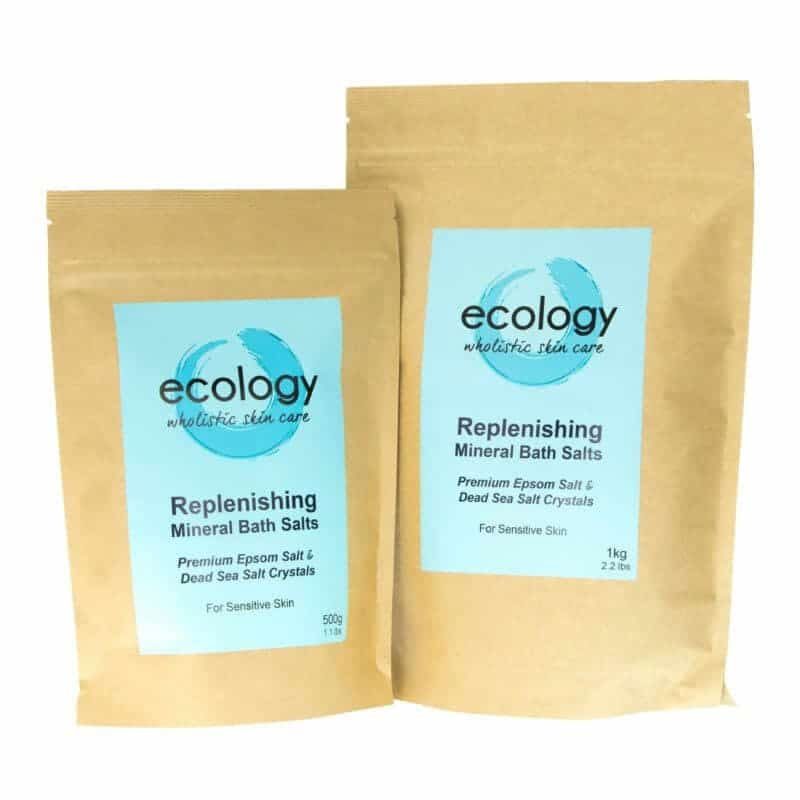 Our Replenishing Mineral Bath Salts will help you really relax and unwind while soaking in a bath or foot bath.
The blend of pure and natural epsom salts and Dead Sea salts is rich in magnesium, sulfate, bromide, and other trace minerals.
Which absorb easily into your skin to soothe and soften skin, relax and detox your body, and calm your mind and nervous system.
In fact, magnesium is responsible for over 300 enzymatic reactions in the body.
And, stress really burns out your magnesium reserves, leaving you depleted of this super important mineral.
After just 20-30 minutes relaxing in a Replenishing Mineral bath or foot bath, you'll notice any tension, niggly headaches, and tight muscles …just melting away. Your body will be better able to process and eliminate toxins, and you'll feel calmer and more relaxed. You'll also sleep like a baby and wake up feeling more refreshed.
I've been using this particular blend of epsom salt and Dead Sea salt for over a year now, and I absolutely love it!
I learned the hard way that ignoring my body when it was whispering to me to slow down, just led my body to yell in the form of acne breakouts, eczema flare-ups, bloating, food intolerances, and low energy.
So now, I try and have a Replenish Mineral foot bath as many nights as I can manage it, sitting on the couch with my husband while we chat or catch up on things. And this really helps me begin to leave the day behind and wind down before bed …and, I have a much better sleep for it!
I also like my ritual of a Friday night bath. I light candles and grab a good book, a relaxing audio, and then just soak in the bath. And it's a really great way to end the week.
Now, I'm really excited to give you ladies the opportunity to fall in love with this beautifully relaxing and calming self-care practice yourselves.
Here's that special offer I mentioned…
PURCHASE A 500g or 1KG BAG OF
REPLENISHING MINERAL BATH SALTS…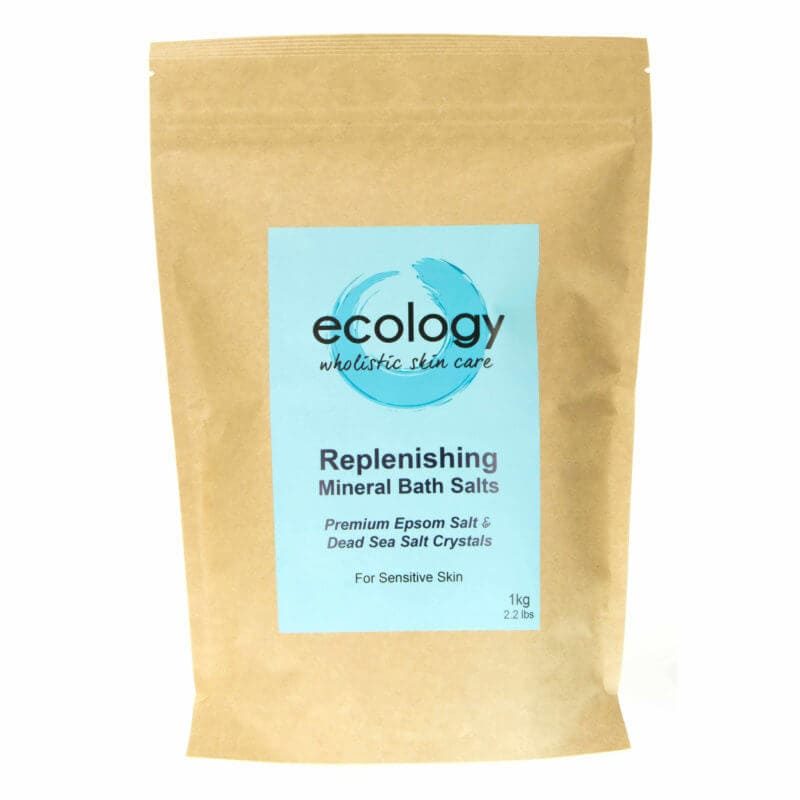 AND YOU'LL ALSO RECEIVE THESE FREE GIFTS (valued at $8)
YES PLEASE! I WANT A 500g BAG
YES PLEASE! I WANT A 1KG BAG
The Special Offer Deets:
For a limited time, when you pick up either a 500g or a 1kg bag of Ecology Replenishing Mineral Salts, you'll also receive 3 great bonuses that will really help you turn your self care timeouts into habits and rituals. They will leave you feeling calmer, more relaxed, and more focused.
The first bonus is a cute pad of self care sticky notes
As I mentioned in the last video, these cute self care sticky notes are great to put on your bathroom mirror,your fridge, computer …or anywhere as a physical reminder to take time out for yourself
The second bonus is a mindful pause PDF and a guided 3-minute breathing space audio
The 3-minute breathing space is one of the mindful pauses I mentioned in the first video
And the third bonus is a guided relaxation audio
That you can use while you're soaking in your bath or footbath to help you relax and unwind …even further. It's like a super boost to your self-care timeout.
So, if this is sounding good, then go ahead and click through the special offer above
But, be aware that these bonuses will disappear soon. And, only the first 50 orders will receive a self-care sticky pad.
So, say yes to yourself today, instead of just yes to everyone else.
And remember, you're one woman, not Super Woman.
So taking time out for yourself is super important for your health and happiness.
And every step of the way, we're trying to make it easier for you to create self care timeouts in your busy day.
It might not be achievable to go to a day spa, but you can enjoy a little luxury into your own home and your daily routines.
Wishing you silky smooth skin,