Grace told me she has 'good skin for her age' (and she does!)… but like many of us, she's looking for every possible advantage 😉 

So she decided to run a 'side-by-side test'…

Every morning after her shower, Grace applied her favourite 'big brand' anti-ageing cream to the left side of her face (as we look at her) …and an Ecology Cream to the right side of her face…

…she did this everyday for 3 months.
(did I mention she's a scientist in her day job?)

…and she cannot believe the difference in the fine lines around one of her eyes compared to the other (and neither can her family and friends)
This is Grace's story…
"So I purchased a trial pack but still had some of my expensive chemist brought product (that I thought I loved) on my nightstand.
I thought I would put this 'to the test' and religiously applied the Ecology Skincare to one side of my face and my current product on the other side.
First thing I noticed, was the chemist brought cream felt like plastic on my skin compared to the Ecology Skincare product.
Then the smell…
I thought my current cream was 'nice' but Ecology Skincare Creams smell amazing.
So then a couple of weeks ago, I'm looking at myself in the mirror, doing a bit of tweezing, a little bit of maintenance.
And I thought, "Oh my God, this side does actually look like it's got less wrinkles."
And I'm squinting, you know, I'm making little grimaces and smiley faces at myself, and you can just see that there is finer lines.
I've got a bag under this eye still [the left], and there is no bag under this eye [the right]
And then I, you know, I said to my husband, I walked out straight away and just said, "Do you think there's a difference in my face, you know, between one side?"
And he's like, "Yeah, the left one."
After three months, I can not believe the visible difference in the two sides of my face.
I have less fine lines around my eyes and plumper skin from using the Ecology Skincare Cream.
And people can see the difference!
I am hooked. Thank you 🙏"
~ Grace, happy Ecology Skincare 'Tester'
Yaaah! …we are beyond happy for Grace!
It's such a massive win when you find something that makes a visible difference to the look of fine lines around your eyes
…even when directly 'tested' side-by-side against your favourite anti-ageing product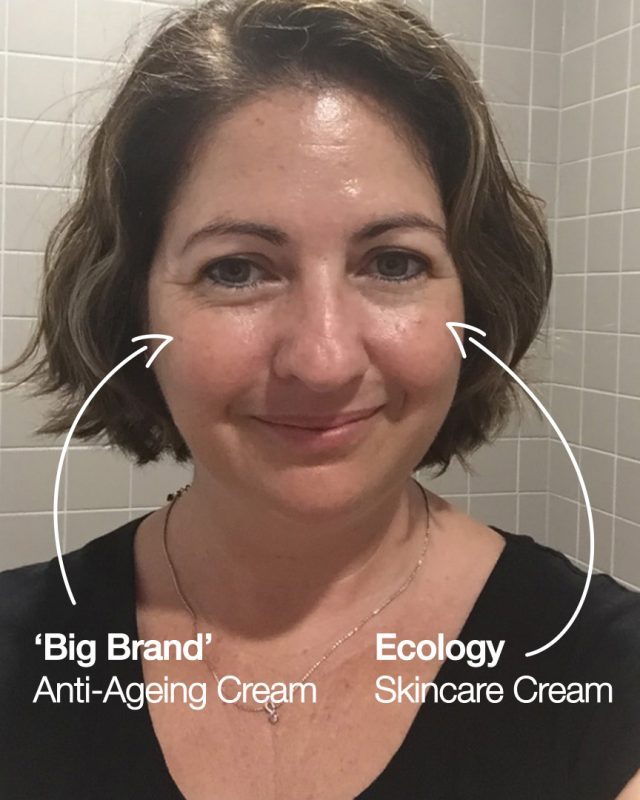 Now you might be wondering why the Ecology Creams can go up against 'big brand' anti-ageing creams?
As we get older our skin produces less of those lipids (the fats and oils) that keep our skin soft, supple and youthful looking.
The Ecology Creams (including Grace's Trial Pack creams) are handmade with a little known ingredient called grass-fed tallow.
Grass-fed tallow is a gently rendered animal fat (like emu oil), but it comes from healthy, grass-fed cows
(so this isn't for our vegan friends!)
Grass-fed tallow contains the same fats and oils we have naturally in healthy, youthful skin.
It contains anti-inflammatory fatty acids, longer chain saturated fats, cholesterol and fat soluble vitamins A, D, E and K – all of which are crucial for healthy, youthful looking skin
So grass-fed tallow is helping give back to skin what time and 'age' takes away…which means it can help soften the look of fine lines and leave skin looking 'plump' and well hydrated.
Not only that… our Ecology Creams are 100% natural fats and oils.
This makes them 'emollient rich' compared to 'big brand' moisturisers that are typically 50-80% water (or aqua) – which leaves only 20-50% for any skin nourishing ingredients.
This means the Ecology Creams are more 'concentrated' with emollients to better soften and protect skin.
Grace has tried a few of our Ecology Trial Packs… her favourites are our Daily Moisturiser with Ylang Ylang and our Revitalising Cream…
RICH MOISTURISER All Skin Types Softens, protects and revitalises For healthy youthful looking skin Floral aroma
RICH MOISTURISER All Skin Types Softens, protects and revitalises For healthy youthful looking skin Citrus aroma
RICH MOISTURISER For All Skin Types Softens, protects and revitalises For vibrant healthy looking skin
We've had good feedback from other customers (like Grace) who've used Ecology Creams to help hydrate skin and soften the look of fine lines…
The Daily Moisturisers contain camellia and frankincense to help protect against visible signs of ageing. And frankincense is also known for helping to reduce the look of scars and fine lines.
The Daily Moisturiser with Ylang Ylang also contains kakadu plum, known for it's anti-ageing benefits.
And the hemp seed oil in the Daily Moisturiser with Hemp and Nerolina is anti-inflammatory and known for helping to protect dry, tired or dehydrated skin against the signs of premature ageing.
Like Grace, I'm often looking to 'test' what I'm putting on my skin and in my body
It was my super sensitive skin and skin issues that led me to developing the Ecology Creams in the first place.
…and in the last 7+ years, they've helped hundreds of people smooth the look of fine lines and 'plump' skin
Our Ecology Creams are rich and highly concentrated, so a little goes a looong way!
They have only a handful of ingredients and are deeply moisturising for skin that's in need of hydration, helping to soften and protect skin (and smooth the look of fine lines)
And because I know how important it can be to try a 'trial size' of something before getting a larger size, we've put together Trial Packs of our Ecology Creams.
You can now try a 2-pack or 3-pack of our 10mL mini moisturisers from only $18 (so only $9 per moisturiser) …and get free shipping when you use the code: TRIAL at checkout*
(the 10mL mini's are a great size! They'll last a couple of weeks each, long enough to see the skin 'plumping' and smoothing effect for yourself)
So click on the button below that best describes your skin to see which moisturisers are right for you…
Crystal,
Ecology Skincare
*free shipping code: TRIAL is valid for one use only