In the winter, Bonnie's rosacea prone skin is usually more dry, red and sensitive… but this year Bonnie's Ecology Creams are keeping her skin soft and reducing the redness in her cheeks.
As a makeup artist Bonnie used to wear a lot of makeup… but now she embraces her youthful-looking 'rosy' cheeks and prefers to go makeup free.
…and her Ecology is helping her also be worry-free when it comes to her skin!   
Here's Bonnie's story…
"I am 43 years old and have always been obsessed with my skincare and trying to keep my skin looking young and healthy.
I used to do a lot with my skin – all sorts of lotions and potions and I have many in my arsenal.
However, as I have aged I have tried to find one product that does all I need…
I am very fair and as I have aged, my skin has gotten more sensitive with dry and red patches.
I have had red ruddy cheeks and nose for my adult life.
I always hated it especially the red spider veins that popped up. I even had a painful laser treatment to try and remove the veins in my late teens / early 20's.
It didn't really work…
I also have sensitive skin, so I need to make sure what I use doesn't inflame my rosacea or create a breakout of cystic acne.
In my experience some products will aggravate the redness and some will soothe it.
I have tried a lot of products over the years…
and I prefer ones that are either free of, or have minimal scent.
I don't like products that are overly greasy or leave residue that doesn't absorb.
As a trained Makeup Artist I used to wear a lot of makeup… but now prefer to go makeup free.
As I've aged, I have embraced my red cheeks and feel it aids in looking youthful.
I saw the Ecology Skincare trial pack being sold on facebook and figured that since I love trying new skincare products and the price was reasonable, why not give it a go…
I have tried 4 Ecology products so far… and whilst I like all of them, my current favourite so far is the Replenishing Day and Night Cream with Emu and Olive. I love the smell and feel of it.
My current routine over the past few weeks is I wash my face in the shower, sometimes with one of numerous cleansers in my shower and sometimes just with Ecology's Konjac sponge.
Then, since I am testing Ecology's products, I apply which ever moisturiser I reach for… almost like an Ecology Lucky Dip.
Thankfully, all of the Ecology products I have tried so far have eased and lessened the redness in my cheeks.
I definitely want to try the other products.
Usually, this time of year (as the weather gets colder) my skin becomes dry, red and sensitive.
I am happy to report that so far, that isn't the case this year… Ecology just enhances its glow and radiance whilst softening fine lines, redness and removing dry patches.
…and I am looking forward to seeing what prolonged use of Ecology products does to my skin.
If my skin looks good then I can take that as one of the things I worry about off of my list."
Bonnie ~ happy Ecology Skincare trialist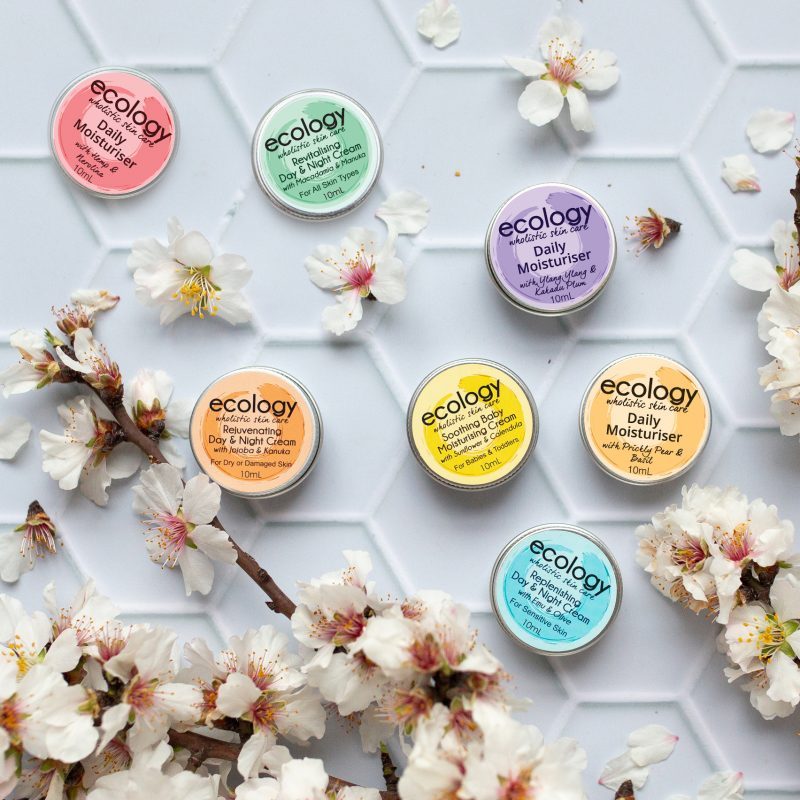 We are beyond happy for Bonnie!
It's such a massive win when you finally find something that calms redness and softens fine lines, leaving skin looking and feeling smoother… and leaving you feeling more comfortable to leave the house without makeup on.
Now you might be wondering why Bonnie's Ecology Creams are helping to keep her skin soft and calm at this time of year…
There's some research that suggests that people with rosacea have less long-chain saturated fatty acids in their skin, which can affect your skin's natural barrier function.
When our barrier function becomes disrupted, this is when water can escape from our skin and allergens and irritants can get in and contribute to redness and irritation.
The Ecology Creams are handmade with a little known ingredient called grass-fed tallow.
Grass-fed tallow is a gently rendered fat (like emu oil), but it comes from healthy, grass-fed cows
(so this isn't for our vegan friends!)
Grass-fed tallow closely mimics the fats and oils we have naturally in skin. So it soaks in nicely and helps support skin's barrier function, keeping allergens and irritants out and moisture in. Tallow also contains anti-inflammatory fatty acids and longer chain saturated fats. 
…so it helps to calm redness and leave skin looking plump and well hydrated.

Grass-fed tallow also:
Contains fat soluble vitamins A, D, E & K …all of which are crucial for healthy skin (some of these are also antioxidants)
Is balanced in omega 3's and 6's …both are important for healthy skin and balancing immune function
Not only that, as we get older, our skin produces less of those lipids (the fats and oils) that keep it soft, supple and youthful looking.
…so grass-fed tallow is putting back what time takes away.
Bonnie's been trying our Dry Skin Trial Pack, Konjac Sponge plus a couple of our other 10mL mini's…
Like Bonnie, I struggled with redness and easily irritated skin for years.
My super sensitive skin and skin issues are what led me to developing the Ecology Creams in the first place.
…I'd finally found something that worked well for me and I wanted to share it with others
And because I know how important it can be to try a 'trial size' of something before getting a larger size, we've put together Trial Packs of our Ecology Creams.
You can now try a 2-pack or 3-pack of our 10mL mini moisturisers from only $18 (so only $9 per moisturiser) …and get free shipping when you use the code: TRIAL at checkout
and see for yourself the difference an Ecology Moisturiser can make for sensitive and problem skin
(this is a great size! It'll last a couple of weeks, long enough to see the softening effect for yourself)
So click on the button below that best describes your skin to see which moisturisers are right for you…
Crystal,
Ecology Skincare