A specialist told Ann that it was the oils in her facial products that were causing her eyes to become blurry during the day.
This led Ann to try a lot of different creams, but she struggled to find a product that didn't affect her eyes. 
Since using our Daily Moisturiser, Ann is happy to report that her skin is hydrated and her eyes are fine. 
I'm also tipping that she's no longer feeling as tired now!
Here's Ann's story…
"I'm a 64 year old Nan of 7 beautiful grandchildren who are the loves of my life.
I was never very happy with the way my skin felt or how the other products impacted on my skin and eyes….
I know this sounds strange – but during the course of the day, my eye sight would get blurry.
After visiting a specialist, apparently the oils from these creams would make their way up into my eyes from the pores in my skin.
…because of the impact the creams had in my eyes, I always felt tired, worn out, exhausted.
I tried many different creams… I was never really happy with other creams.
The only one that has worked and feels comfortable on my skin, is amazing value for money, has no chemical nasties and is genuinely kind to my skin and the environment is your Ecology – where have you been all my life ❤️
I cleanse at night and morning. Then use my Ecology Moisturiser morning and night
My skin is rehydrated and my eyes are fine.
I do not have any pimples or acne marks at my ripe old age from swapping and changing or too many nasties in the creams.
I'm happy that I am saving the environment in some small way (even though we do all we can at home)
My Ecology moisturiser is easy to use, terrific value for money and it makes me happy"
~ Ann T. happy with our Daily Moisturiser with Ylang Ylang & Kakadu Plum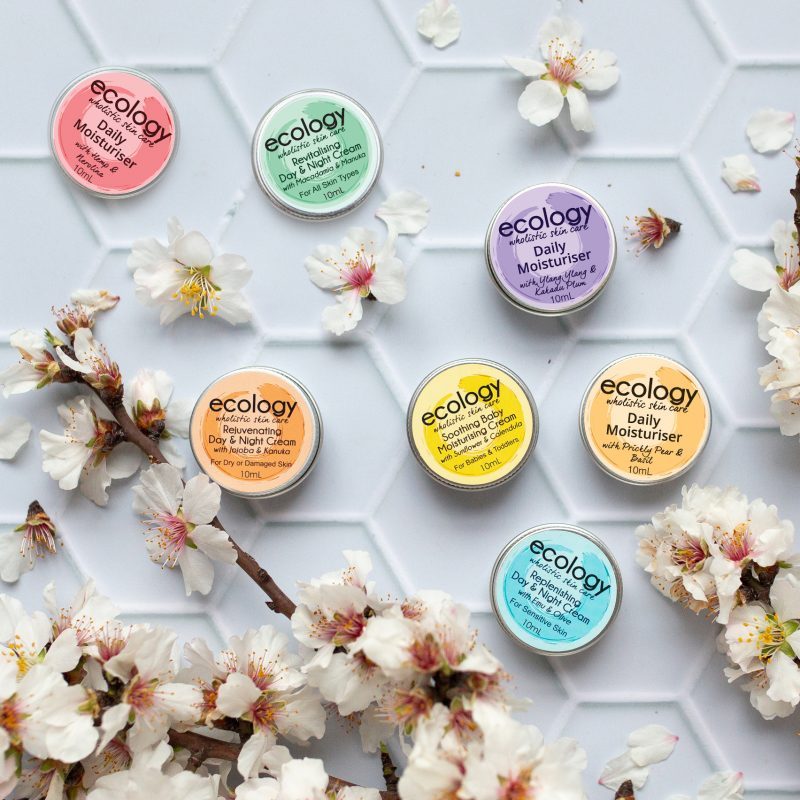 We are beyond happy for Ann!
It's always a win when you find something that helps to soften and hydrate skin without affecting your eyes…
(as well as fitting in with your ethos on reducing your exposure to chemicals) 
Now you might be wondering why the Ecology Creams are different to the other moisturisers Ann's used…
Our Ecology Creams are handmade with a little known ingredient called grass-fed tallow.
Grass-fed tallow is a gently rendered fat (like emu oil), but it comes from healthy, grass-fed cows
(so this isn't for our vegan friends!)
Grass-fed tallow might be 'little known' now… but everyone from the Aboriginal Australians to our great grandmothers used to use traditional animal fats like tallow, for everything from burns and chafing to blisters and wound healing.
And the reason why grass-fed tallow is so amazing for skin?
It really closely mimics fats and oils found naturally in healthy, youthful skin.
It contains fat soluble vitamins A, D, E & K …all of which are crucial for healthy skin (some of these are also antioxidants)
It's balanced in omega 3's and 6's …both are important for healthy skin
So this means grass-fed tallow can help replace missing lipids (the natural fats and oils) in skin's outer layer …keeping moisture IN and allergens and irritants OUT.
…and helping to soften dry skin and leave it looking plump and well hydrated.
Not only that, as we get older, our skin produces less of those lipids (the fats and oils) that keep it soft, supple and youthful looking.
…so grass-fed tallow is putting back what time takes away.
As to why Ann has found these creams ok for her eyes where other's were not… honestly, I'm not sure.
When we apply a cream or oil, our body temperature warms it up and the oils in the product become more 'mobile' on our skin.
…and if we're not careful the warmed oils can 'wick' along the fine lines near our eyes – and into our eyes.
(I used to have this same problem with rosehip oil – it became very 'mobile' on my skin when warm and I used to notice blurry eyes when I was reading before bed)
It's possible that the lipids in the grass-fed tallow make it less likely to 'travel' into the eyes with body heat, it's hard to know for sure…
We generally find that the Ecology Moisturisers can work well around the eyes (depending on skin sensitivity), because the Ecology Moisturisers contain oils and lipids that closely mimics those our skin produces naturally.
Typically the skin around our eyes is more delicate and produces less natural skin oils than skin on the rest of our face
…which means it actually needs more lipids to compensate for there being less oils in that area.
Ann likes our Daily Moisturiser with Ylang Ylang and Kakadu Plum on her face…
A lighter natural moisturiser for all skin types, mature skin and skin prone to breakouts
Read more
We've had good feedback from other customers (like Ann) who've used our Ecology Creams to soften and hydrate skin.
The Daily Moisturiser with Ylang Ylang is lighter in texture than our other Ecology Creams… it contains camellia, kakadu plum and frankincense to protect against signs of ageing… and it has a delightful aroma.
And we do have quite a few customers who use the Ecology Moisturisers around their eyes…
…but it can depend on how sensitive your skin is around your eyes
If you have sensitive skin, I would suggest taking a look at the Replenishing Cream and the Soothing Baby Cream …but otherwise, the essential oils in the original Ecology Day and Night Creams are relatively low, so most people find them absolutely fine under their eyes
An ultra-rich, natural moisturiser for dry and sensitive skin and for skin prone to redness and dry skin conditions
A rich and gentle, natural moisturiser for sensitive skin and skin prone to redness, rashes and dry skin conditions
Like Ann, I have a drive to use natural skincare products without the nasties.
My super sensitive skin and skin issues are what led me to developing the Ecology Creams in the first place.
…I'd finally found something that worked well for me and I wanted to share it with others
And because I know how important it can be to try a 'trial size' of something before getting a larger size, we've put together Trial Packs of our Ecology Creams.
You can now try a 3-pack of our 10mL mini moisturisers from only $27 (so only $9 per moisturiser) …and get free shipping when you use the code: TRIAL at checkout
and see for yourself the difference an Ecology Moisturiser can make for sensitive and problem skin
(this is a great size! It'll last a couple of weeks, long enough to see the calming effect for yourself)
So click on the button below that best describes your skin to see which moisturisers are right for you…
Crystal,
Ecology Skincare