A distressed child in pain is every mum's nightmare.
Add in a genetic disorder that can prolong wound healing and it's easy to see why Mr E's mum panicked when she saw the red, blistered skin under his arm.
Luckily Mr E's mum had a tin of our Soothing Baby Cream in the cupboard which made an incredible difference to the burnt and blistered skin within just 24 hours.
Here's Mr E's mum with their story…
"I just wanted to share our experience with your beautiful products, because they quite literally saved us from tears!
Recently my beautiful master 9 started using deodorant, and so after days of looking at products, I bought him what I thought was a lovely, easy-to-use, natural deodorant from a reputable, well-known ethical brand.
We did the patch tests without any issues, however on day three he came to me quietly and said "Mum, I'm in so much pain. Under my arms feels like it's on fire".
Of course I did a quick inspection and my heart sank to see red, blistered and burnt skin.
I panicked, wondering what on earth I could put on it that wouldn't cause him further distress
(our boy is beautifully neuro-diverse and incredibly sensitive, and he struggles to process pain).
Fortunately, the lightbulb came on in my brain and I remembered that I still had a small tin of the Soothing Baby Cream tucked away in the bathroom.
Then came the next hurdle of convincing him to let me put it on.
He looked at me with worried eyes and asked how long he would have to breathe through the pain for
(this is his coping strategy for things that involve painful skin – as a younger boy, things like changing a bandaid meant he would scream uncontrollably because it was so overwhelming for him 😭) .
This was the pivotal moment – I told him, hand on heart, that he wouldn't feel anything except my fingers applying it. We both took a deep breath and I applied the cream to his stiff, nervous little body.
Within seconds he relaxed, relief washed over his face and he said, "Ohhhh Mum that feels so much better".
He asked me for more cream throughout the day and overnight, and the difference in 24 hours was nothing short of incredible.
The photos say it all, really – as does his beaming smile.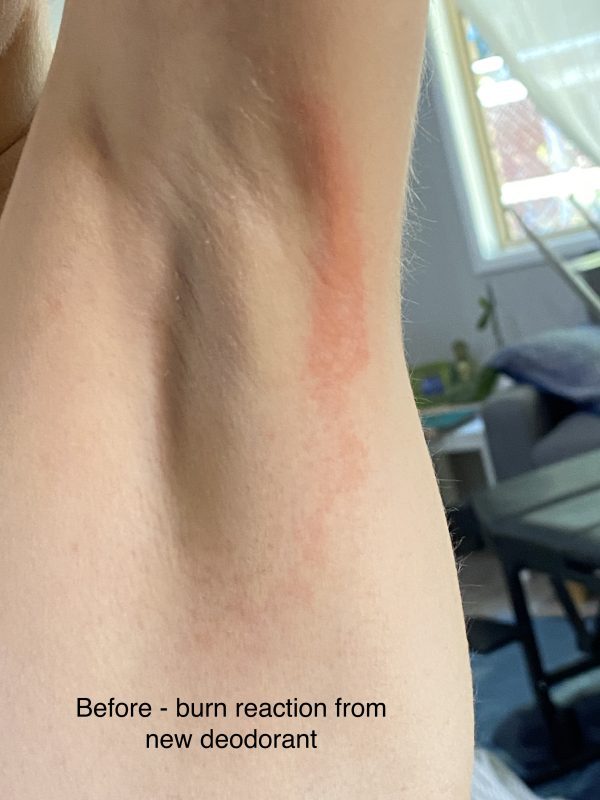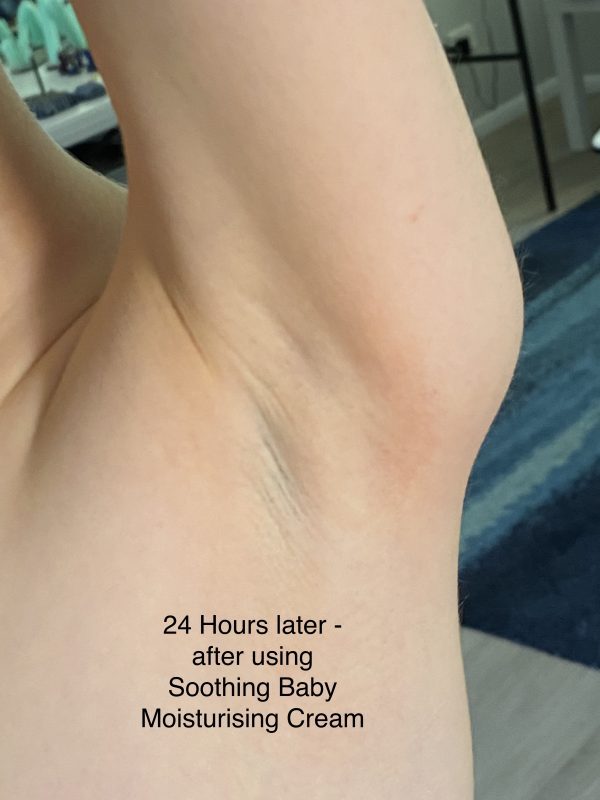 Here's where I should also mention that my children and I have a connective tissue disorder which often prolongs skin / wound healing times, and so this would normally have ended up being a week-long nightmare of a distressed child in pain
(annnnnnnd we live in Queensland with insane heat and humidity at this time of year, which would have made this even worse).
It might be such a small and simple thing to anyone else, but for us, this product has been a godsend.
We love that it is gentle enough to use on raw skin and assists healing by protecting and restoring the natural skin barrier.
Genius, really!
I'll always make sure I have some in my first aid kit from now on. Thank you again from Mr E and his very relieved Mamma"
~ Mr E's mum, loves our Soothing Baby Cream
We are beyond happy for Mr E and his mum!
It's always a win when you realise you have something that calms red and blistered skin.
And an even bigger win when it works, leaving skin looking calmer – and you feeling relieved that there'll be no more pain and burning.
Now you might be wondering why our Soothing Baby Cream helps to reduce the look of blistered skin and redness…
Our skin cells are like bricks… and in between our skin cells, sits a glue or mortar made up of cholesterol, fatty acids and ceramides.
…it works like a living wall that keeps allergens, microbes and irritants out and moisture in.
When our skin's barrier function becomes disrupted, this is when water can escape from skin and allergens and irritants can get in… leading to redness and irritation.
Cholesterol in particular is helpful for skin that's 'healing' …but it's found in so few products.
Cholesterol IS in our Ecology Creams, because it's found naturally in our hero ingredient… grass-fed tallow.
Grass-fed tallow is a gently rendered fat (like emu oil), but it comes from healthy, grass-fed cows
(so this isn't for our vegan friends!)
Grass-fed tallow contains the same kinds of fats and oils we have naturally in skin. So it soaks in nicely and helps support skin's barrier function, keeping allergens and irritants out and moisture in.
…so it helps to calm redness and leave skin looking plump and well hydrated.

Grass-fed tallow also:
Contains fat soluble vitamins A, D, E & K …all of which are crucial for healthy skin (some of these are also antioxidants)
Is balanced in omega 3's and 6's …both are important for healthy skin and balancing immune function
Mr E's mum called on our Soothing Baby Cream to help relieve his skin…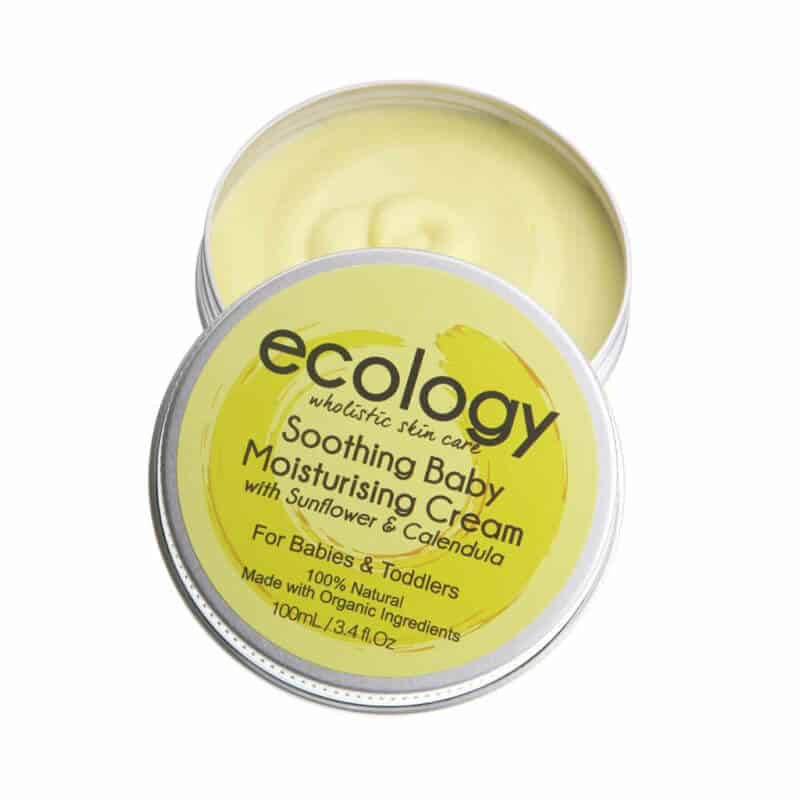 Soothing Baby Cream with
Sunflower & Calendula
Rich and perfect for
baby and toddler or sensitive skin
Click for Ingredients
Grass fed beef tallow*, Sunflower Oil*, Jojoba Oil**, Vanilla Bean Extract, Calendula Extract*, Rosemary Leaf Extract*
*Organic **Grown Pesticide Free *** Wild Harvested
We've had good feedback from other customers (like Mr E's mum) who've used our Soothing Baby Cream, Replenishing Cream and the other moisturiser in our Redness Prone Skin Trial Pack (our Revitalising Cream) to help soothe sensitive skin and calm redness.
The Replenishing Cream is ultra rich. It has only a handful of ingredients (no essential oils) and is perfect for anyone with dry and sensitive skin or skin issues like eczema and dermatitis.
The Soothing Baby Cream is just as gentle as the Replenishing Cream, but a little lighter in texture.
And the Revitalising Cream is similar in texture to the Baby Cream, but it has a mild herbal aroma from the manuka and kanuka oils (these two oils can be helpful for inflamed skin)
Because I know how important it can be to try a 'trial size' of something before getting a larger size, we've put together Trial Packs of our Ecology Creams.
First time customers can now try a trial of our 10mL mini moisturisers from only $27 (so only $9 per moisturiser) …and get free shipping when you use the code: TRIAL at checkout
and see for yourself the difference an Ecology Moisturiser can make for sensitised skin
(the 10mL mini's are a great size!  Each one will last a couple of weeks, long enough to see the softening effect for yourself)
So click on the button below that best describes your skin to see which moisturisers are right for you…
Crystal,
Ecology Skincare