Here's how this resigned mum cleared her hormonal acne and ditched her casual makeup even when usually 'everything new made my skin flare up'…
I first heard from Zoe when she sent us a Facebook message letting us know her skin was 'so far so good' with her Ecology trial moisturisers…
"Hey Crystal! I just wanted to let you know I received my trial moisturisers last week and I've been using the baby one every day and tried the revitalising one a couple of times and my skin has. not. freaked. out!!! I've had a few pimples and little whiteheads as normal but not what it usually does on trying a new product! 🙌🙌 My skin is still quite dry but the creams feel awesome to use – just getting used to how much to use 😅 Will do a before and after for you once I've used more of the product and see how my skin goes. Thank you so much for developing a product that has not caused my skin to flare up 💜 I've totally been doing little happy dances each morning 😂 thanks, Zoe"
We all hate those selfie shots that show us in a less than flattering light …and when your skin's red and angry looking, you dread looking in the mirror and you definitely don't want to see any pictures of yourself.
Let alone take them…
…but true to her word, Zoe sent us through 'before and after' pics of herself
(let's take a moment to appreciate how gutsy that was!…)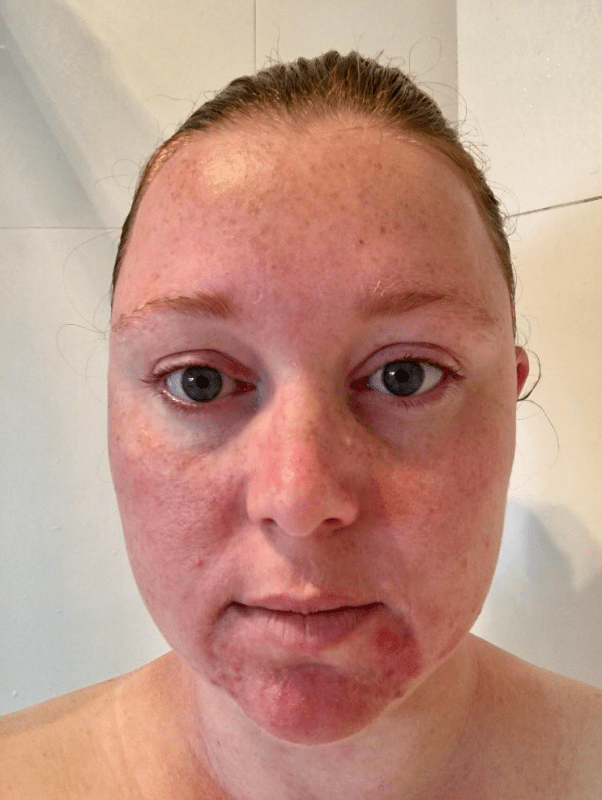 Zoe – Before Ecology Skincare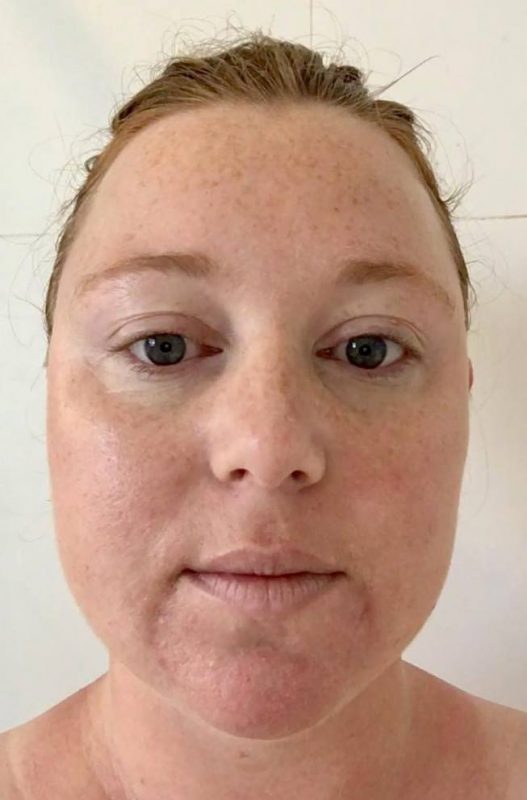 Zoe – After Ecology Skincare
This is the message that Zoe sent me with her 'before and after' pics…
"I can't believe my eyes. At age 30, I have clear skin – the first time since I was about 13 when I first started getting acne!
Every morning for the past 15 years, I've woken up dreading to look in the mirror, to apply makeup over painful acne in the hope I could lessen the angry redness and feel confident enough to walk out the door and face the world.
Less than two months since I started using the Ecology Soothing Baby Cream on Crystal's advice and the Facial Konjac Sponge and I've only worn makeup on my work days to cover my "mum of two kids under two" tiredness for the past three weeks.
My newfound confidence is something I thought I could only dream of.
I had resigned myself to not trying new products because everything new made my skin flare up. I had been using a face wash and moisturiser for a couple of years that just kept everything the same and I thought this was my life.
I came across the ecology story and Crystal's own experience about everything plant-based resonated with me.
At only $7 for a trial something spurred me to take the plunge and try it.
Crystal was beyond helpful with all of my questions before I made a purchase.
Within the first week, my skin didn't flare up so I knew something was different.
By the end of the trial tin my skin was feeling so soft I decided to buy the full tin.
It was when I started using the konjac sponge and moisturiser together in this pack that my acne started getting better and better until my husband one day looked at me and exclaimed
"hey! Your skin is clear at the moment! Beef tallow really works."
I couldn't agree more!! Thank you, Crystal for going on this journey to finding a product that has helped so many people and changed my life." ~ Zoe

That was around a year ago (wow, time flys!)
I was in contact with Zoe just recently and she's still loving her Ecology Cream and Konjac Sponge and she sent me through this pic…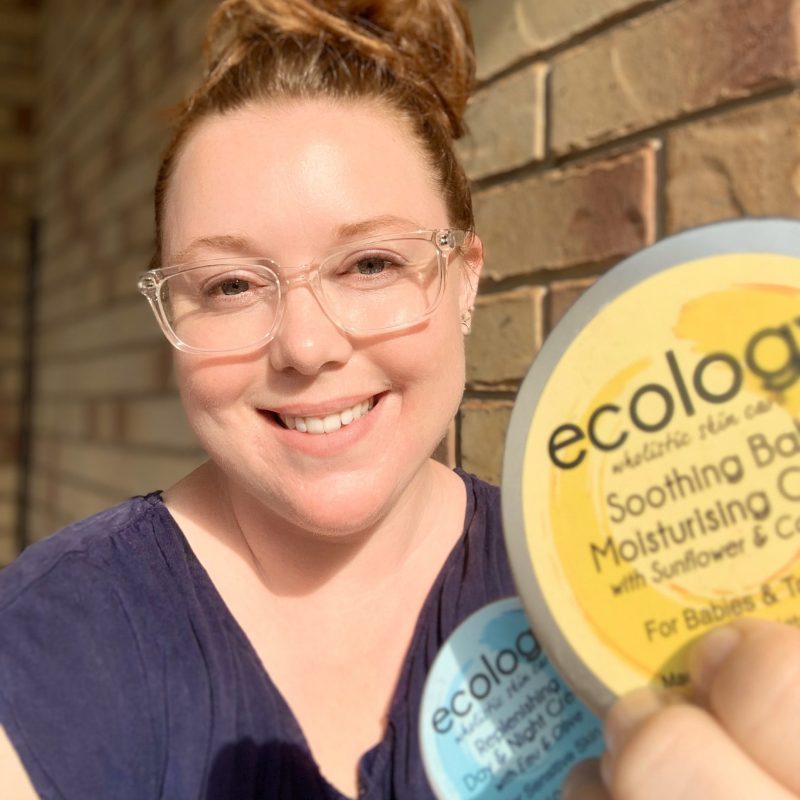 We are beyond happy for Zoe!
It's such a massive win when you finally find something that helps clear problem skin after so many years …and gives you the confidence to do something wild like leave the house without makeup on!
Honestly, when it comes to acne and breakouts… everyone's different and it can really depend on what's driving the breakouts (especially as there's a big internal component to acne as well)
We find it's people with 'hormonal' acne or breakouts that tend to get the best results with the Ecology Creams…
…now you might be wondering why the Ecology Cream worked so well for Zoe when so many other products didn't…?
It's because the Ecology Creams are handmade with a little known ingredient called grass-fed tallow.
Grass-fed tallow is a gently rendered fat (like emu oil), but it comes from healthy, grass-fed cows
(so this isn't for our vegan friends!)
Grass-fed tallow might be 'little known' now… but everyone from the Aboriginal Australians to our great grandmothers used to use traditional animal fats like tallow, for everything from burns and chafing to blisters and wound healing.
And the reason why grass-fed tallow is so amazing for skin?
It really closely mimics fats and oils found naturally in healthy, youthful skin.
It contains fat soluble vitamins A, D, E & K …all of which are crucial for healthy skin (some of these are also antioxidants)
It's balanced in omega 3's and 6's …both are important for healthy skin
So this means grass-fed tallow can help balance oil production and replace missing components in skin's outer layer …keeping moisture IN and allergens and irritants OUT.
…and helping to calm redness and leave sensitive skin looking plump and well hydrated.
Zoe uses our Soothing Baby Cream and Facial Konjac Sponge: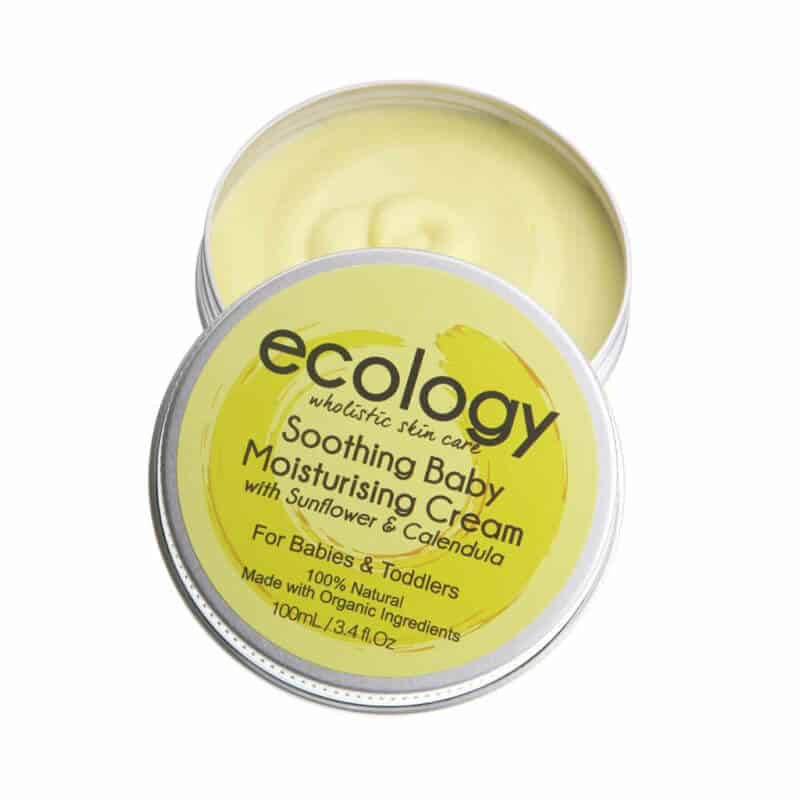 Soothing Baby Cream with
Sunflower & Calendula
Rich and perfect for
baby and toddler or sensitive skin
Click for Ingredients
Grass fed beef tallow*, Sunflower Oil*, Jojoba Oil**, Vanilla Bean Extract, Calendula Extract*, Rosemary Leaf Extract*
*Organic **Grown Pesticide Free *** Wild Harvested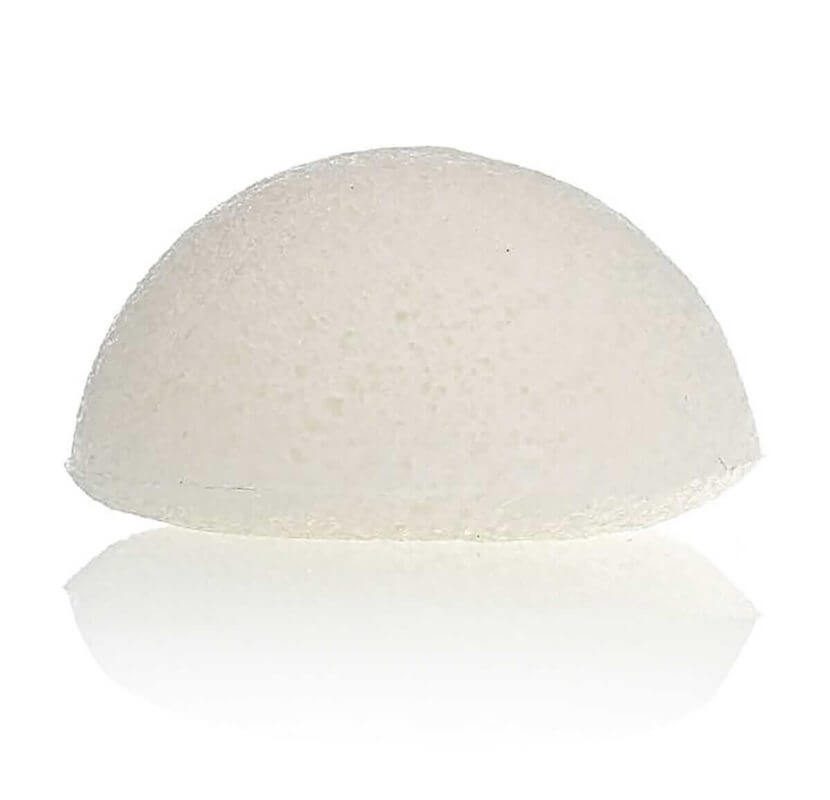 Facial Konjac Sponge
Pure 
For gentle cleansing, just add water
perfect for dry and sensitive skin
Click for Ingredients
Pure Konjac Potato Fibre
The Konjac Sponges are free from chemicals, colours, additives and preservatives.
We've had good feedback from other customers (like Zoe) who've used our Soothing Baby Cream, Revitalising Cream and Daily Moisturiser with Ylang Ylang to help calm their breakout prone skin…
The Soothing Baby Cream doesn't have any essential oils, but it does have calendula which can be helpful for healing red and irritated skin.
The Revitalising Cream contains manuka oil (which is anti-inflammatory and well known for helping with acne)
…and the Daily Moisturiser with Ylang Ylang contains geranium and ylang ylang (which are anti-microbial and helpful for balancing oil production).
Geranium and frankincense also help speed wound healing and frankincense is helpful for reducing the appearance of scars.
Right now, you can try a Starter Pack of these Creams along with a Konjac Sponge and Makeup Removal Cloth with Free Shipping…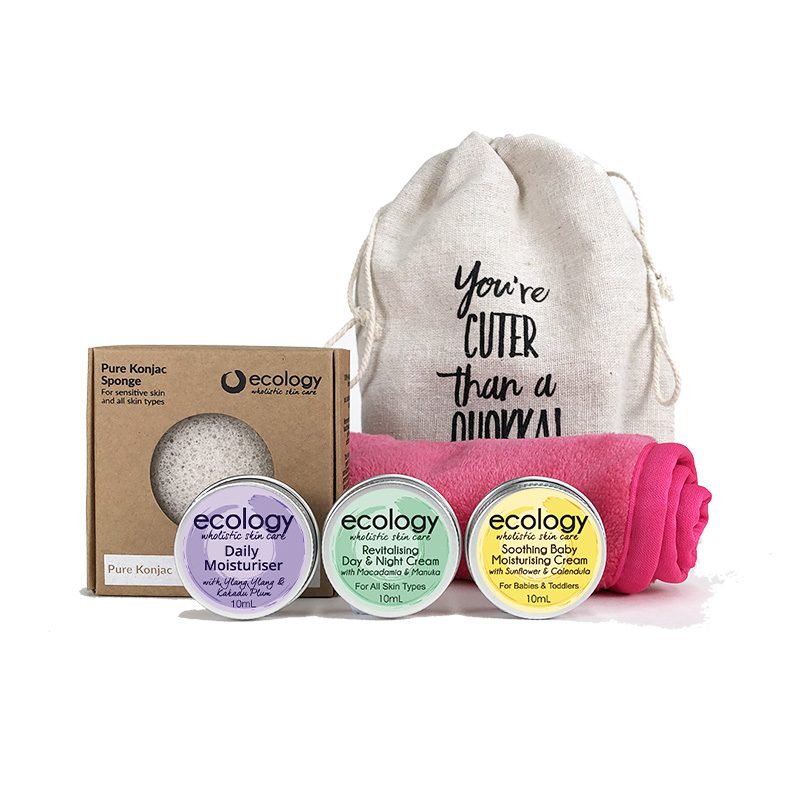 Ecology Starter Pack #1
ONLY $47  $48 plus $10 Shipping ($58)
3 x 10mL Ecology Moisturisers for Dry Skin +
a Facial Konjac Sponge + a Makeup Removal Cloth
WITH FREE SHIPPING!
(normally $10 - total saving $11)
When you use Promo Code: STARTER
at checkout*
BUY NOW
MORE INFO

*FREE SHIPPING: Use Promo code: STARTER at checkout. New customers only. Valid for one use. Starter Packs are sent via eParcel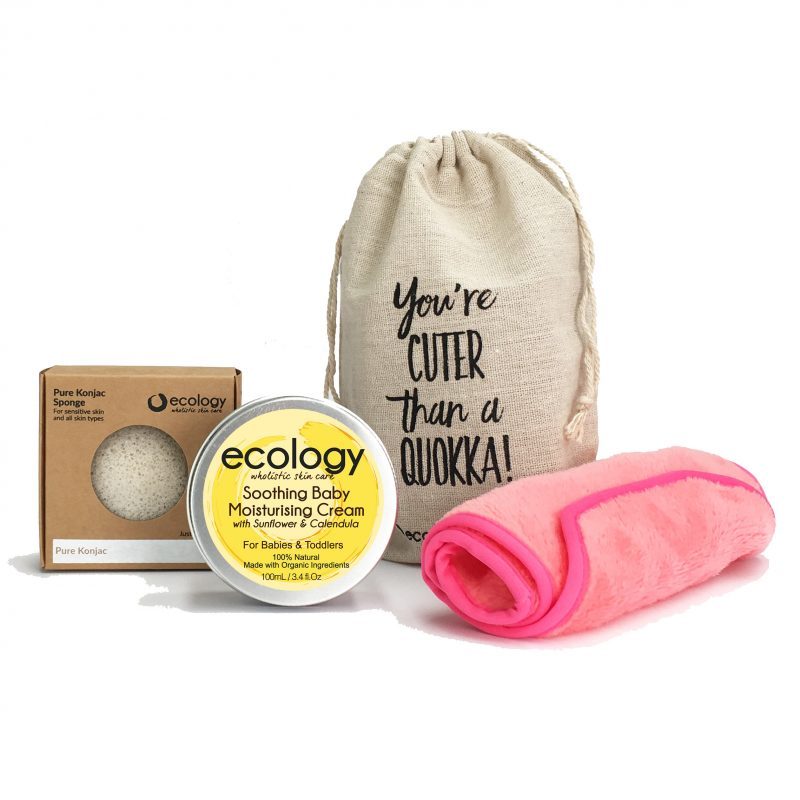 Ecology Starter Pack #3
ONLY $59  $66 plus $10 Shipping ($76)
100mL Soothing Baby Cream for Sensitive Skin
+ a Facial Konjac Sponge + a Makeup Removal Cloth
WITH FREE SHIPPING!
(normally $10 - total saving $17)
When you use Promo Code: STARTER
at checkout*
BUY NOW
MORE INFO

*FREE SHIPPING: Use Promo code: STARTER at checkout. New customers only. Valid for one use. Starter Packs are sent via eParcel
*FREE SHIPPING: Must use code: STARTER at checkout to trigger the free shipping. New customers only. Australian based customers only (does not apply to Internationally shipped orders) Valid for one use. Starter Packs are sent via eParcel
Like Zoe, I know what it's like to feel self-conscious about your skin and the 'face' you present to the world… and to feel judged for it.
My super sensitive skin and skin issues are what led me to developing the Ecology Creams in the first place.
…I'd finally found something that worked well for me and I wanted to share it with others
And because I know how important it can be to try a 'trial size' of something before getting a larger size, we've put together Trial Packs of our Ecology Creams.
You can now try a 2-pack or 3-pack of our 10mL mini moisturisers from only $18 (so only $9 per moisturiser) …and get free shipping when you use the code: TRIAL at checkout.
and see for yourself the difference an Ecology Moisturiser can make for sensitive and problem skin
(this is a great size! It'll last a couple of weeks, long enough to see the calming effect for yourself)
So click on the button below that best describes your skin to see which moisturisers are right for you…
Or you can try one of our Starter Packs from only $47 …and get free shipping when you use the code: STARTER at checkout
Crystal,
Ecology Skincare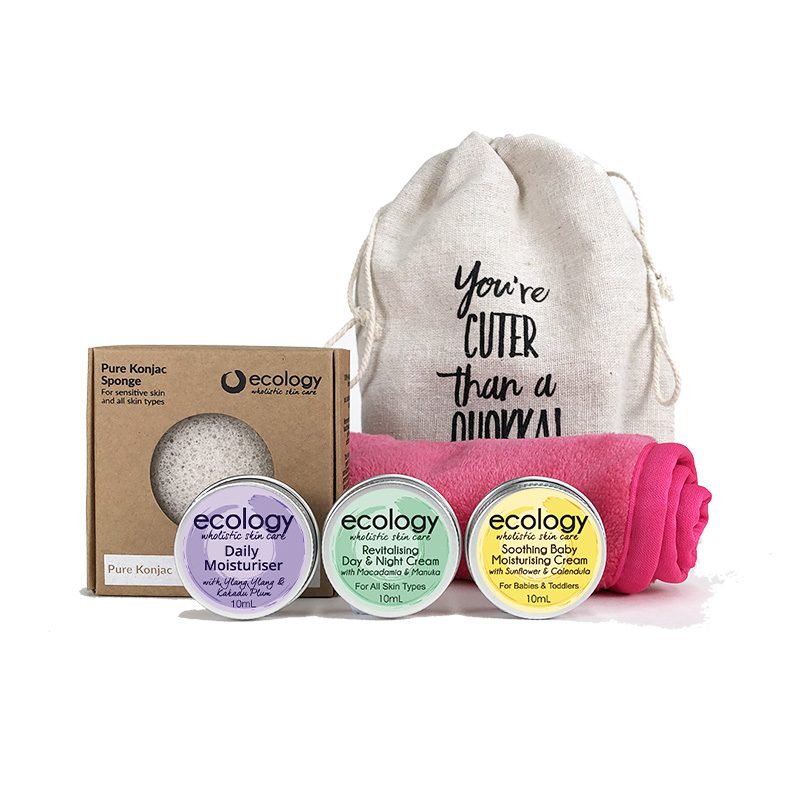 Ecology Starter Pack #1
ONLY $47  $48 plus $10 Shipping ($58)
3 x 10mL Ecology Moisturisers for Dry Skin +
a Facial Konjac Sponge + a Makeup Removal Cloth
WITH FREE SHIPPING!
(normally $10 - total saving $11)
When you use Promo Code: STARTER
at checkout*
BUY NOW
MORE INFO

*FREE SHIPPING: Use Promo code: STARTER at checkout. New customers only. Valid for one use. Starter Packs are sent via eParcel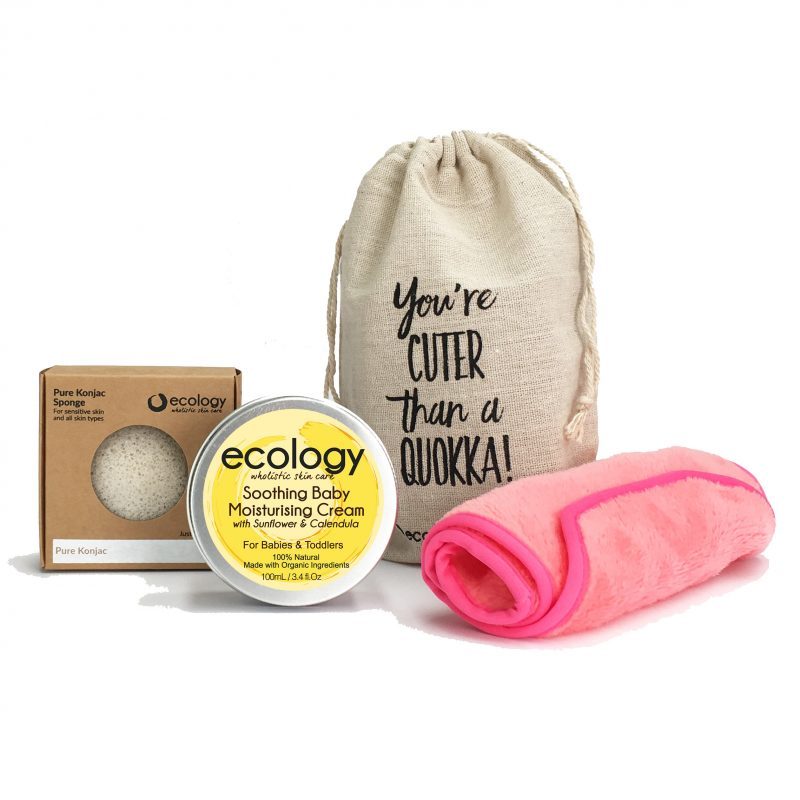 Ecology Starter Pack #3
ONLY $59  $66 plus $10 Shipping ($76)
100mL Soothing Baby Cream for Sensitive Skin
+ a Facial Konjac Sponge + a Makeup Removal Cloth
WITH FREE SHIPPING!
(normally $10 - total saving $17)
When you use Promo Code: STARTER
at checkout*
BUY NOW
MORE INFO

*FREE SHIPPING: Use Promo code: STARTER at checkout. New customers only. Valid for one use. Starter Packs are sent via eParcel