An active lifestyle see's Janette in the pool and sauna most days, which left her skin feeling 'tight' …and left her looking for a moisturiser that would 'go the distance'…
Janette's Soothing Baby Cream is now keeping her skin soft and hydrated with no more 'tightness'  
This is Janette's story…
"I teach 15 classes a week at my local YMCA. I teach Pilates, movement and stretch… and on my own time, I get in the water and do deep water running followed by a sauna.
My product that l used for years did not last the distance in the pool and sauna… and it was triple the price.
I'd always used Estee Lauder for a day and night cream. I don't really use toners or anything like that and I hardly wear makeup.
The other thing I always used on my skin is the Intensive Vaseline Care on my whole body after I shower.
And Papaw cream is my go-to. I put the Pawpaw on my lips before I go in the water.
But I found my other creams didn't last as well with swimming and just washed off.
My skin would just feel like I had nothing on …and in the sauna my skin would feel really tight.
I was looking for something extra to suit my lifestyle – swimming at the local pool and using the sauna.
I wanted something that could last the distance…
Ecology has been great to pop on before exercise and before the sauna …my skin feels hydrated and soft, it makes me feel refreshed.
My Ecology Cream stops my skin drying out and stays on even after swimming.
I always make sure I put it on my face before I go in the water.
Then after I do the water activity, I usually have a sauna and I find the moisture just stays on my skin instead of my skin feeling dry after a sauna… that's why I like it.
I gave the product a trial with the little sample pots because I wanted to try all the different ones.
…and I've found I love the yellow tin the best (the Soothing Baby Cream)
I like the smell and the consistency on my skin.
I use it daily before l head off to the gym, l also reapply after shower and wear to bed.
The creams keep my skin soft and hydrated… and I don't get that 'tight' feeling after the pool and sauna
I like the little trial packs because they're handy to chuck in the swim bag too"
~ Janette
uses the Soothing Baby Cream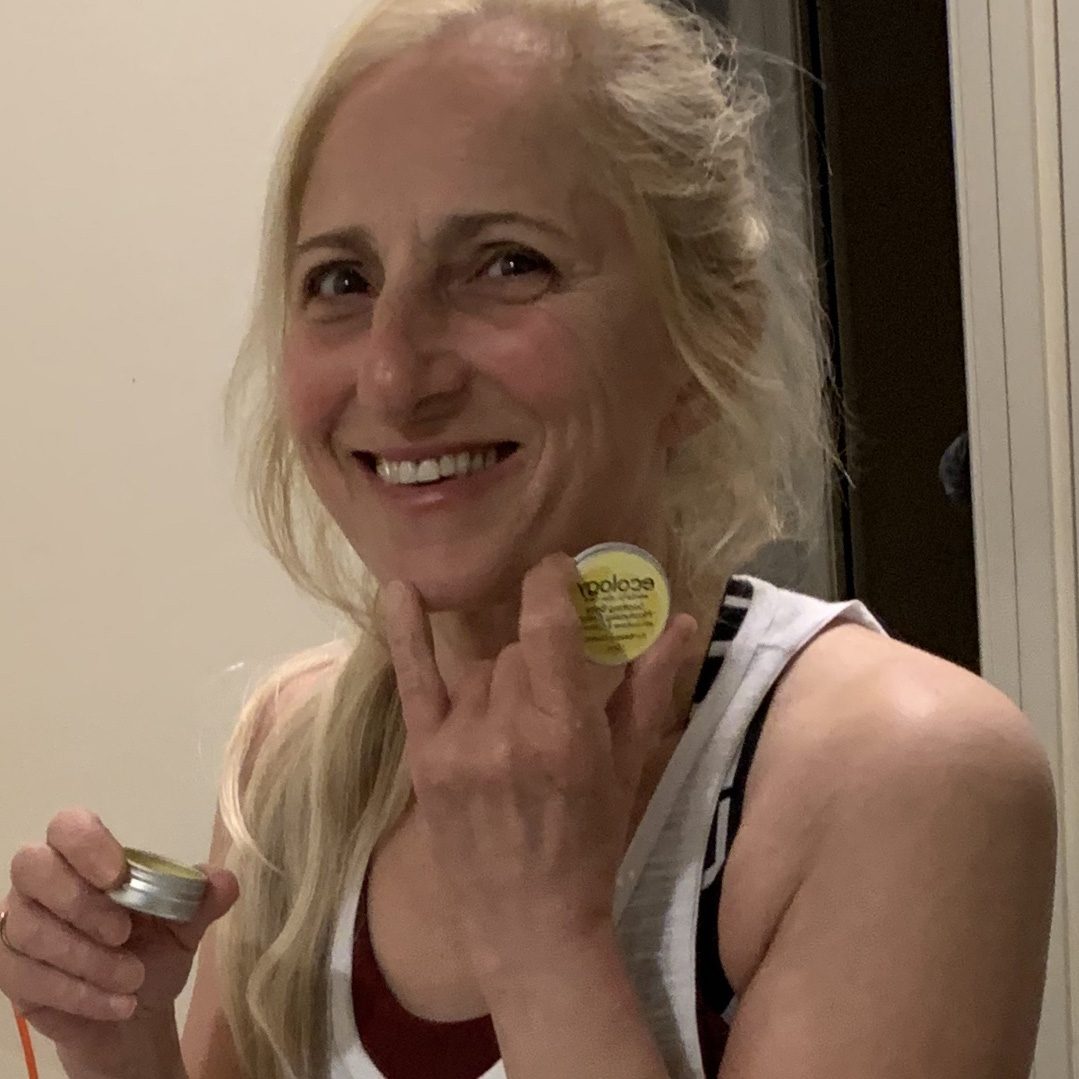 A rich and gentle, natural moisturiser for sensitive skin and skin prone to redness, rashes and dry skin conditions
Read more
These are our recommendations for Sensitive Skin
With this trial pack, you can see which suits you best…
Read more
We are beyond happy for Janette!
It's always such a win when you find something that 'goes the distance' when you're in and out of highly chlorinated water all the time (chlorine can be very drying to skin) and using a sauna often …and still your skin is feeling soft and hydrated!
Now you might be wondering why Janette's Soothing Baby Cream is able to keep up with her active lifestyle…?
It's because the Ecology Creams are handmade with a little known ingredient called grass-fed tallow.
Grass-fed tallow is a gently rendered fat (like emu oil), but it comes from healthy, grass-fed cows
(so this isn't for our vegan friends!)
Grass-fed tallow might be 'little known' now… but everyone from the Aboriginal Australians to our great grandmothers used to use traditional animal fats like tallow, for everything from burns and chafing to blisters and wound healing.
Grass-fed tallow is the hero ingredient in our Ecology Creams…
…and the reason why grass-fed tallow is so amazing for skin?
It really closely mimics fats and oils found naturally in healthy, youthful skin.
It contains fat soluble vitamins A, D, E & K …all of which are crucial for healthy skin (some of these are also antioxidants)
It's balanced in omega 3's and 6's …both are important for healthy skin and balancing immune function
So this means grass-fed tallow can help replace missing oils in skin's outer layer …keeping moisture IN and allergens and irritants OUT.
…and helping to protect skin and leave skin looking plump and well hydrated, even in the face of a daily swim and sauna.
So why is it the big brand moisturisers fail to really hydrate dry skin?
It's because big brand moisturisers are typically 50-80% water (or aqua)
Take a look and you'll see water as a first ingredient in many of these products.
But this means, there's only 20-50% left for the skin nourishing ingredients.
Compare this to the Ecology Moisturisers..
they're are 100% natural fats and oils (no water), so they're highly concentrated to better soften skin and smooth out the look of fine lines.
Like Janette, I'm prone to super dry skin (due to an autoimmune condition)
But my super sensitive skin and skin issues meant I couldn't just use ANY natural product because my skin would react…
…which is what led me to developing the Ecology Creams in the first place.
…and once I found something that worked well for me and I wanted to share it with others
And because I know how important it can be to try a 'trial size' of something before getting a larger size, we've put together Trial Packs of our Ecology Creams.
So if you haven't tried our Ecology Creams yet, you can now try a 2-pack or 3-pack of our 10mL mini moisturisers from only $18 (so only $9 per moisturiser) …and get free shipping when you use the code: TRIAL at checkout
and see for yourself the difference an Ecology Moisturiser can make for dry skin
(this is a great size! It'll last a couple of weeks, long enough to see the softening effect for yourself)
So click on the button below that best describes your skin to see which moisturisers are right for you…
Crystal,
Ecology Skincare