Christine's allergies to different flowers, vegetables and other foods had a big impact on her skin – until she turned to the carnivore diet.
For someone eating mainly meat, natural fats, eggs and dairy, it wasn't a a big leap to moisturise her skin with beef fat… and the bonus is Christine's problem skin absolutely loves her tallow-based Replenishing Cream – and so does she!
Here's Christine's story…
"I'm a happy soul – full time carer, volunteer church worker 💕
I've battled dietary issues allergies to foods and I'm now a carnivore (zero carbs – I eat meat & fat, eggs, some dairy)… mostly due to being one of those allergic to lots flowers and food and animals.
I'm allergic to lectins in vegetables – I eat them and 30 minutes after digestion my bowel turns to liquid, and I was diagnosed malnourished.
I get psoriasis only around my eyes if I'm stressed… and have you ever had oxalates coming out of your skin..?
It's nothing like a pimple or sore. Oxalates are little crystals with a sharp point – and my face was where the tips used to always push through my skin… and when out, they leave a hole.
…there wasn't a week were my skin wasn't struggling.
I was looking for the most natural of products to use – and was last using essano and sukin products.
Then my sister put me onto your brand as she shares the allergies too.
Tallow is awesome, I've worked my way through the testers to know what is safe to use.
Tallow is what my skin loves and doesn't argue with.
It provides the best moisture level all day and I'm not greasy – Replenishing Day & Night Cream with Emu & Olive – and it's so simple to use.
I love it.
My skincare routine is basic. Very very basic.
Wash face with water, remove makeup with coconut oil, and then let dry.
Apply Day & Night Replenishing Cream and maybe a little make up – or as I like to go about with my skin breathing natural.
The Replenishing Cream takes less than a few minutes to apply and the coverage is awesome.
I love it on my lips, my ears, neck and shoulders too, elbows and hands always – will do my knees and feet 👣 occasionally
I've also been using your Tallow Soap – leaves my skin squeaky clean literally removing oils.
Hair – is loving hemp shampoo and bee 🐝 conditioner (links below)
Beef Bone Broth – it's an afternoon cuppa. Got me through the flu season and it's good for us autoimmune kids.
Collagen – is new as my skins doubles down in detox mode – I'm on the watermelon flavour – will keep you posted.
And I drink marshmallow tea for my tummy."
~ Christine, loves our Replenishing Cream

We are beyond happy for Christine and her sister!
It's always a win when you finally find something the helps with frequently wounded skin and leaves your skin feeling soft and hydrated. And an even bigger win when it's a product you can use 'all over'
Now you might be wondering why Christine and her sister are such fans of grass-fed tallow and our Ecology Creams…
Well, our skin cells are like bricks… and in between our skin cells, sits a glue or mortar made up of cholesterol, fatty acids and ceramides.
…it works like a living wall that keeps allergens, microbes and irritants out and moisture in.
When our skin's barrier function becomes disrupted (like it would if oxalates are pushing to the surface), this is when water can escape from skin and allergens and irritants can get in… leading to redness and irritation.
Cholesterol in particular is helpful for skin that's 'healing' …but it's found in so few products.
Cholesterol IS in our Ecology Creams, because it's found naturally in our hero ingredient… grass-fed tallow.
Grass-fed tallow is a gently rendered fat (like emu oil), but it comes from healthy, grass-fed cows
(so this isn't for our vegan friends!)
Grass-fed tallow contains the same kinds of fats and oils we have naturally in skin. So it soaks in nicely and helps support skin's barrier function, keeping allergens and irritants out and moisture in.
…so it helps to calm redness and leave skin looking plump and well hydrated.

Grass-fed tallow also:
Contains fat soluble vitamins A, D, E & K …all of which are crucial for healthy skin (some of these are also antioxidants)
Is balanced in omega 3's and 6's …both are important for healthy skin and balancing immune function
Not only that, as we get older, our skin produces less of those lipids (the fats and oils) that keep it soft, supple and youthful looking.
…so grass-fed tallow is putting back what time takes away.
Christine's loving our Replenishing Cream & 'Naked' Tallow Goats Milk Soap…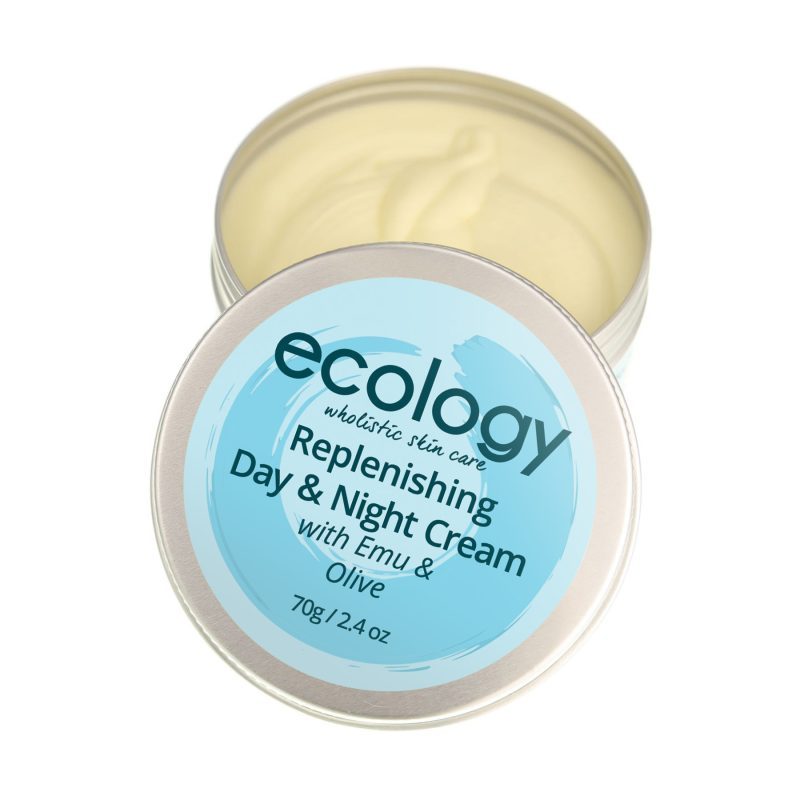 Replenishing Cream
with Emu & Olive
Ultra rich and perfect for
dry and sensitive skin
Click for Ingredients
Grass fed beef tallow*, Emu Oil, Extra Virgin Olive Oil*, Jojoba Oil**, Vanilla Bean Extract, Rosemary Leaf Extract*
*Organic **Grown Pesticide Free *** Wild Harvested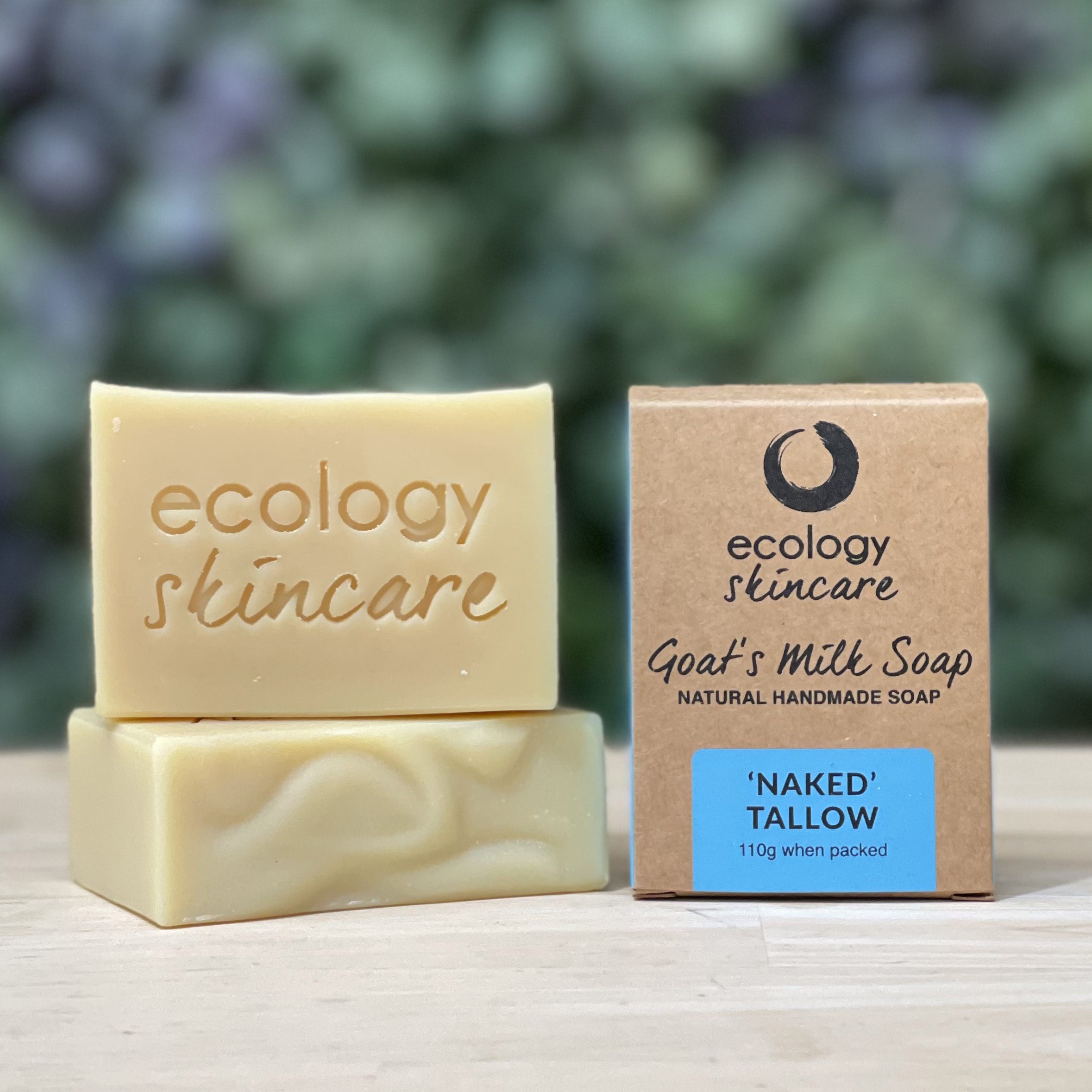 'Naked Tallow' Goat's Milk Soap 
Handmade and unscented perfect for
sensitive skin and skin prone to skin issues
Click for Ingredients
olive oil*, goat's milk, grass-fed tallow*, coconut oil*, lye**, shea butter* and cocoa butter*
*organic **none remains in final product
We've had good feedback from other customers (like Christine) who've used our Replenishing Cream and the other moisturisers in our Redness Prone Skin Trial Pack to help soothe the look and feel of sensitive and easily wounded skin.
The Replenishing Cream is ultra rich. It has only a handful of ingredients (no essential oils) and is perfect for anyone with dry and sensitive skin or skin issues like eczema and dermatitis.
The Soothing Baby Cream is just as gentle as the Replenishing Cream, but a little lighter in texture.
And the Revitalising Cream is similar in texture to the Baby Cream, but it has a mild herbal aroma from the manuka and kanuka oils (these two oils can be helpful for inflamed skin and have a history with wound healing)
Plus here are those other products from our store that Christine's using at the moment…
Because I know how important it can be to try a 'trial size' of something before getting a larger size, we've put together Trial Packs of our Ecology Creams.
First time customers can now try a trial of our 10mL mini moisturisers from only $27 (so only $9 per moisturiser) …and get free shipping when you use the code: TRIAL at checkout
and see for yourself the difference an Ecology Moisturiser can make for sensitive and problem skin
(this is a great size! It'll last a couple of weeks, long enough to see the softening effect for yourself)
So click on the button below that best describes your skin to see which moisturisers are right for you…
Crystal,
Ecology Skincare
PS. Christine also has a special code for those who are yet to try our Ecology Creams… first time customers can use the code: CHRISSYM at checkout and we'll add a free 10mL mini moisturiser to your order when you spend over $25 on your first order (yahoo!)