I thought plant-based ingredients were best for skin …right up until my skin started reacting to natural products.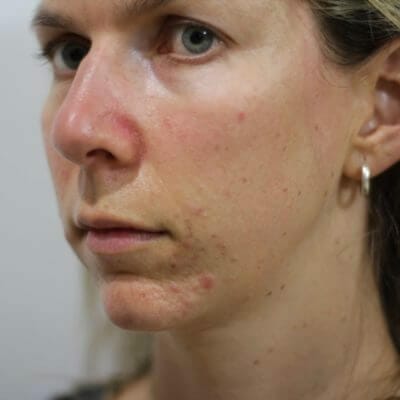 This was a couple of years before I launched Ecology Skincare (and the reason why I spent a year in R&D working on our first Ecology moisturisers)
…I felt like I'd tried everything to either fix my skin flare ups and breakouts or to hide them!
Coconut oil made my skin red and rashy.
Sweet almond oil bought me out in bumps.
…and rosehip oil made my eyes swell.
Which left me feeling really self-conscious about my skin …and the 'face' I was presenting to the world.
I didn't want to leave the house without makeup on, but even makeup irritated my skin!
So I started googling….
I went right back to traditional principles and these were my 2 major takeaways:
Ingredients that mimic our skin's own natural fats and oils are less likely to cause skin irritation. This includes ingredients like jojoba, emu oil and grass-fed tallow
Throughout history, soap and medicinal salves, ointments and poultices have been based on traditional fats like lard, tallow and emu oil.
From the ancient Babylonians and Australian Aborigines to our great grandmothers, these traditional animal fats were used for everything from burns and chafing to blisters and wound healing.
Even cosmetics! The ancient Egyptians used animal fat ointments to help their mineral kohl makeup stick.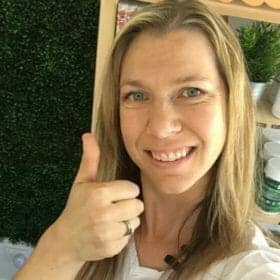 Mind blown, right?
So I started experimenting with grass-fed tallow as an ingredient. …and the result was AMAZING!
A deeply nourishing moisturiser that my senstive skin loved.
It put a bounce in my step and had people asking me what I was doing differently.
So why was this?
Why is grass-fed tallow such an amazing ingredient for skin?
I have for you, the top three reasons why grass-fed tallow is the perfect ingredient for skin (especially sensitive skin) and why we use grass-fed tallow as a hero ingredient in our Ecology Moisturising Creams.
#1: Grass-fed Tallow closely mimics our natural skin oils
That's right! Grass-fed tallow really closely mimics the fats and oils we have naturally in our skin.
This includes the fatty acids and cholesterol in the cell membranes of all our skin cells …as well as those that sit in between skin cells, forming the protective barrier function of our skin.
Strong, healthy cell membranes help keep skin cells plump and well hydrated.
So, grass-fed tallow is a deeply nourishing ingredient! It helps protect skin from moisture loss and leaves skin looking soft and hydrated.
It will also help replenish any missing components in our skin's barrier function. This means it will help keep moisture in and allergens and irritants out!
Grass-fed tallow also contains fatty acids that closely mimic the oils that we produce naturally as sebum.
As we get older, our skin slows down on the production of these oils that keep our skin soft, supple and youthful looking.
So, grass-fed tallow helps put back what time takes away.
Rejuvenating the appearance of skin, as well as smoothing out the look of fine lines and wrinkles.
#2: Grass-fed Tallow contains Vitamins A, D, E & K
Fat soluble vitamins A, D, E and K are all super important for healthy glowing skin.
They work together synergistically and are only found together in animal products, particularly in grass-fed animal products, like grass-fed tallow.
#3: Grass-fed Tallow is balanced in omega 3's and 6's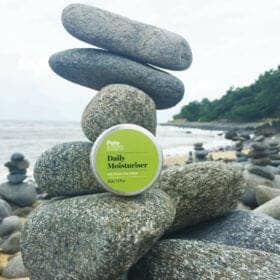 Grass-fed organic tallow contains an optimal ratio of omega 3's to omega 6's. A ratio of 1:1.
Both of these types of essential fatty acids are incredibly important for skin health.
They're also important for the protective function of skin. They influence inflammation and immune function in our skin.
So, Why grass-fed?
The reason why we chose a grass-fed tallow is these animals have been raised with ethical and sustainable farming practices.
They have relatively stress free lives …they get to frolic in the sun, in their natural environment.
So, all around, they're much healthier animals …which means their fat is a lot healthier as well.
It contains fatty acids that are not normally found in grain fed animals.
We're also practicing incredible sustainability by using a by-product that would otherwise be discarded and turning it into a beautiful skin nourishing ingredient that really closely mimics oils that we produce naturally in our skin.
An ingredient that contains fat soluble vitamins A, D, E, and K.
As well as an optimal ratio of omega 3 to omega 6 essential fatty acids.
So, that's the top three reasons why we use a grass-fed organic tallow in our Ecology Moisturising Creams.
HAVE YOU TRIED THE ECOLOGY MOISTURISERS YET?
Our Moisturisers are all based on our hero ingredient, Grass-fed organic tallow.
These rich moisturisers are handmade with carefully selected high quality and organic ingredients.
An ultra-rich, natural moisturiser for dry and sensitive skin and for skin prone to redness and dry skin conditions
SaveSave
SaveSave
SaveSaveSaveSave
SaveSave
SaveSave