After trying a lot of expensive 'name brands' to help soothe hormonally-driven itchy, flaky patches on her face, Jo's Revitalising Cream and Konjac Sponge are now helping to keep her skin, soft and supple… 
…and after years of using 'the whole gamut of everything' when it comes to skincare products, Jo's really liking the simplicity of her Ecology Skincare routine!
This is Jo's story…
"I'm 63 and love the idea of a moisturiser without the nasties. I was also keen to support a small Australian business, so I tried Ecology several years ago and won't be changing anytime soon! It fits the bill.
I used to get very dry flaky patches of skin around my nose and coming out on to my cheeks.
It wasn't all the time so it was probably hormonal, but it was really, really itchy and really, really flaky.
There was no way of covering it up with makeup or anything because then it was more obvious …you could see it, it looked pretty awful.
It didn't to stop me from going out, but I didn't like it …I felt a bit self conscious about it, but you can't lock yourself away.
I tried a lot of the more expensive 'name brands' as well as homemade creams from the markets.
I'd used everything from SK-II to Sukin. …and sometimes you find something, you think, "Oh yeah, this is really nice. It sort of suits my skin."
And then after a while you think, "No, time to change."
But I got to Ecology and now I'm thinking, "No, I'm sticking with it. I really like it."
The dry flaky patches have now gone.
I haven't had them since I've been using the Revitalising Cream …so I'm sticking with Ecology.
I've also got a genetic skin condition called Hailey-Hailey disease.
It's pretty rare, it's not an autoimmune condition, it is genetic (it has something to do with the chromosomes in your skin)
I get 'open skin' – blistering lesions – mainly around my torso and under my arms.
When it gets really nasty, it can be 'open' for weeks, maybe months on end. And it's just awful. Sometimes I've been almost confined to the house because I can't do anything, it's so painful.
Over the years I used to treat it with cortisone, but I've decided that's the devil because it thins your skin so much… it's not good at all.
So I got to the stage about 10 years ago where I ended up going to a naturopath for it.
She said, "Even though I know it's genetic, I think that it's also inflammatory."
So she started me off…
She was also a herbalist. So it was all that swamp water stuff that she was giving me… but you know what, it works.
And now, I think the best thing to control it with is diet.
If I go completely Keto, Paleo it tends to be better.
At the moment, it's fine. I've got a couple of spots here and there, nothing major.
I wouldn't put anything on it normally, but at the very tail end when it is starting to clear up a little bit, it will sometimes get really dry and the skin will crack.
So I'll use a little bit of Ecology on that too and that seems to help it too. It's usually just enough to keep it a bit supple so it doesn't crack and start to weep again."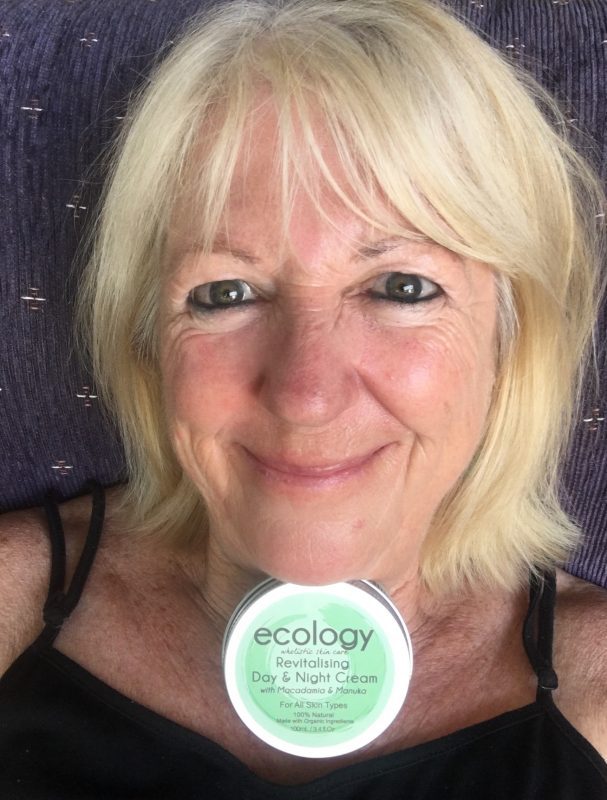 Jo's simple skincare routine now…
"Over the last few years I've tried a few of your sample pots here and there but my favourite is the Revitalising moisturiser. I've also recently discovered your Konjac sponges and love these now as well.
I use the Konjac Sponge in the shower in the morning, then the moisturiser.
You feel like it lightens your skin up. When your skin's feeling dull… you get out of bed in the morning and jump in the shower, use the Konjac Sponge, get out and put some cream on and you feel like it really does brighten your skin up!
The moisturiser is soothing, smells delicious and a little goes a long way.
And do you know what? …at the moment, with all this hand washing, it's really good for your hands as well!
My hands feel like they're really tight, from all this hand washing and skin cleaning… and as soon as you put that Revitalising Cream on, they feel normal again, which is really nice.
I never used my Ecology moisturiser as a hand cream… but now I'm like, it's hand cream as well!
In winter I find I need to moisturise before bed, but not so much when the weather is hotter.
I've also got little 10mL ones. I've got one here that I've been using on my lips when they're dry (a 10mL Rejuvenating Cream) …they're handy, those little tins.
I've been through the whole gamut of everything. I've been through the whole toners and I can't be bothered doing all that anymore…
It's now as simple as my Konjac sponge in the shower then a little Revitalising moisturiser, and I'm done! What could be simpler!"
~ Jo
We are beyond happy for Jo!
It's such a massive win when you finally find something that soothes itchy, dry skin and leaves you feeling more comfortable in your own skin
It's also worth noting here, that in cases of a specific type of dermatitis – seborrheic dermatitis – we would not see this kind of resolution…
When skin is red and flaky down the sides of the nose, eyebrows or scalp, it can sometimes be due to a skin condition called seborrheic dermatitis.
There's a particular microbe that lives on our skin that is overgrown with seborrheic dermatitis. That microbe feeds on our natural skin oils (which is why seborrheic dermatitis often appears in the oiler parts of our face and scalp).
What this means is that any moisturiser that is oil based will feed those microbes and possibly make seborrheic dermatitis worse. Which is why we wouldn't recommend an Ecology moisturiser in cases of seborrheic dermatitis.
Now you might be wondering why Jo's Revitalising Cream works so well for her, when her other 'name brands' didn't…?
It's because the Ecology Creams are handmade with a little known ingredient called grass-fed tallow.
Grass-fed tallow is a gently rendered fat (like emu oil), but it comes from healthy, grass-fed cows
(so this isn't for our vegan friends!)
Grass-fed tallow might be 'little known' now… but everyone from the Aboriginal Australians to our great grandmothers used to use traditional animal fats like tallow, for everything from burns and chafing to blisters and wound healing.
And the reason why grass-fed tallow is so amazing for skin?
It really closely mimics fats and oils found naturally in healthy, youthful skin.
It contains fat soluble vitamins A, D, E & K …all of which are crucial for healthy skin (some of these are also antioxidants)
It's balanced in omega 3's and 6's …both are important for healthy skin and balancing immune function
So this means grass-fed tallow can help replace missing oils in skin's outer layer …keeping moisture IN and allergens and irritants OUT.
…and helping to calm itching and leave sensitive skin looking plump and well hydrated.
Not only that, as we get older, our skin produces less of those lipids (the fats and oils) that keep it soft, supple and youthful looking.
…so grass-fed tallow is putting back what time and a harsh environment takes away.
So why is it the big brand moisturisers fail to really nourish super dry skin?
It's because big brand moisturisers are typically 50-80% water (or aqua)
Take a look and you'll see water as a first ingredient in many of these products.
But this means, there's only 20-50% left for the skin nourishing ingredients.
Compare this to the Ecology Moisturisers..
they're are 100% natural fats and oils (no water), so they're highly concentrated to better soften skin and smooth out the look of fine lines.
Like Jo, I have skin that's often dry and itchy due to an autoimmune condition.
My super sensitive skin and skin issues are what led me to developing the Ecology Creams in the first place.
…I'd finally found something that worked well for me and I wanted to share it with others
And because I know how important it can be to try a 'trial size' of something before getting a larger size, we've put together Trial Packs of our Ecology Creams.
You can now try a 2-pack or 3-pack of our 10mL mini moisturisers from only $18 (so only $9 per moisturiser) …and get free shipping when you use the code: TRIAL at checkout
and see for yourself the difference an Ecology Moisturiser can make for sensitive and problem skin
(this is a great size! It'll last a couple of weeks, long enough to see the softening effect for yourself)
So click on the button below that best describes your skin to see which moisturisers are right for you…
Crystal,
Ecology Skincare