These Easter chocolates are not only super delicious, but they're also made with real food and contain the added benefits of gelatin.
A good quality gelatin powder is a wonderful source of important nutrients for your gut, skin and heart. So yes, that means these particular Easter treats are actually good for you!
Derived from collagen, gelatin is found in animal parts that provide us with important amino acids, the "building blocks" of protein.
These amino acids are rarely consumed in adequate amounts. And yet we need them to support a healthy mood, strong bones, smooth skin, hair and nail growth, optimal immune function and weight regulation.
In addition, glycine, which makes up about 1/3 of the amino acids in gelatin powder is anti-inflammatory and evidence is finding that it can help speed up wound healing. Glycine in gelatin can also help to improve sleep ease and quality.
It sounds like pretty amazing stuff, right?!
Pretty cool, huh?! And now for the recipe….
COCONUT & RASPBERRY EASTER CHOCOLATES
(Makes 22 Easter egg shaped halves, using the moulds pictured)
Ingredients
22 fresh raspberries

100g dairy free chocolate, broken into small pieces

60g coconut milk

30g raw honey

10g coconut oil

1/4 tsp ground cinnamon

Pinch salt

10g desiccated coconut

1 tbsp gelatin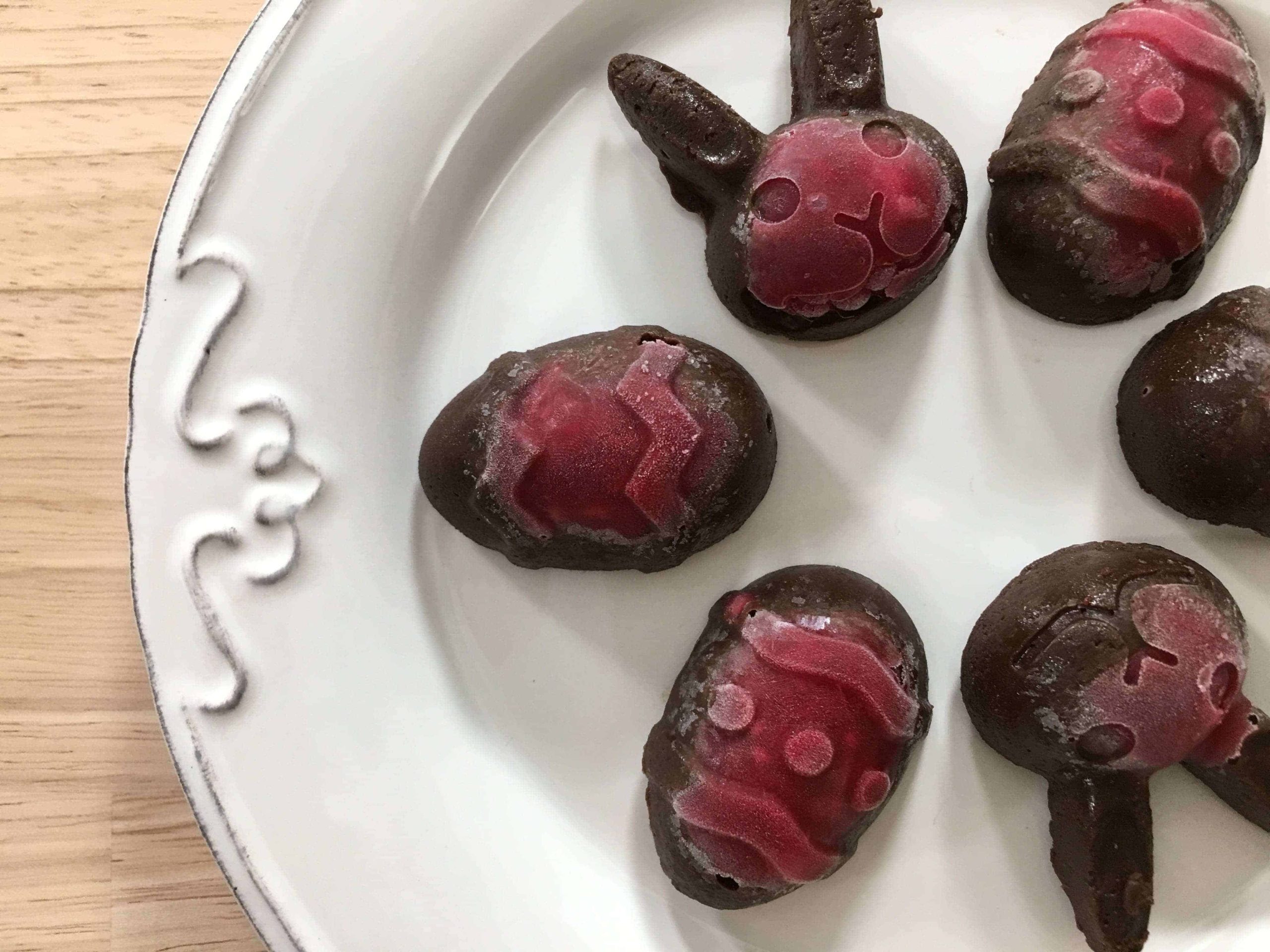 Here's what you do…
Squish raspberries between your thumb and forefinger and place one into each Easter egg shaped mould. Set aside.

Place chocolate, coconut milk, honey, coconut oil, cinnamon and salt into a pot and melt gently on low heat, stirring with a whisk.

Once the chocolate is melted, turn off the heat and stir in the desiccated coconut.

Now it's time to add the gelatin. It's important at this stage to move quickly so that the mixture doesn't begin to set. So, get your moulds close by, then add the gelatin to the melted chocolate mixture and whisk quickly but gently.

As soon as the gelatin has dissolved, pour the chocolate mixture over the squished raspberries in the moulds.

Press the mixture into the moulds with a spoon to help remove any air bubbles and ensure the moulds are fully covered in chocolate.

Place them in the freezer and allow the chocolate to set for a few hours.

Once set, turn the chocolates out of their moulds and enjoy! If you manage to have any leftovers, store them in the fridge.
NOTE: If you have a Thermomix you can use that to melt the ingredients in step 2. Simply heat for 3 min/50 degrees/speed 2
500g
33 Serves
Gelatin that "gels"
So it's perfect for making desserts, jelly or gummies with a beauty boost
Read more
SOURCES