Product Description
Good quality bone broth is my #1 Skin Super Food (alongside gelatin and collagen)
Bone broth is rich in trace minerals (calcium, magnesium, potassium, silicon and phosphorus) as well as anti-ageing collagen and hyaluronic acid.
This extra special superblend contains dehydrated bone broth (from grass-fed, organic beef bones) plus carefully selected ingredients, Tasmanian Pepperberry, Ashwagandha and Turmeric …which creates a bone broth with a superfood punch!
Beauty Benefits of Bone Broth
High quality bone broth is a dietary source of collagen. Eating or drinking collagen boosts the body's own collagen production, helping to smooth out fine lines and wrinkles and improve skin elasticity

Bone broth is rich in amino acids, glycine and proline. Both of which are critical building blocks for healthy hair, skin and nails

Glycine can help to calm the gut, improving digestion and gut repair

Glycine can also help regulate blood sugar levels and combat sugar cravings

Additionally, glycine has a general calming effect that can reduce stress and improve sleep

Hyaluronic acid in bone broth hydrates skin and helps skin retain moisture
Beauty Benefits of Turmeric:
Turmeric contains curcumin, a powerful anti-inflammatory antioxidant which helps to boost the activity of the body's own antioxidant enzyme, glutathione

Antioxidants can help reduce the oxidative stress on the body that can lead to premature aging and the formation of fine lines and wrinkles

The anti-inflammatory and antioxidant properties of turmeric have been shown to be helpful for soothing and calming the symptoms of eczema, psoriasis, rosacea and other skin issues that have a basis in inflammation 

Vitamin C is a powerful antioxidant that helps to reduce any free radical damage from sun exposure

Vitamin C is needed for collagen formation and tissue repair. It helps to rejuvenate the appearance of skin, speed wound healing and protects against early signs of ageing
All of which helps to keep your skin looking smooth, supple and radiant!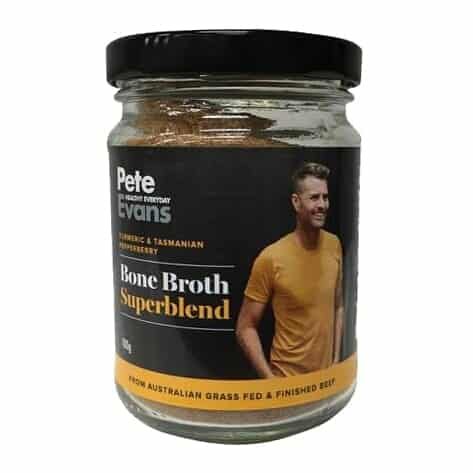 Product Description
The boys from Gelatin Australia teamed up with Chef Pete Evans to create this truely unique bone broth.
Let's start with the broth
Using only grass fed, organic beef bones, simmered for more than 24hrs with nothing but organic apple cider vinegar and Himalayan salt which help in extracting the minerals and goodness from the bones themselves. We then let this wonderful elixir cool down, we strain it before it goes through a slow drying process so that the nutrients are not destroyed by heat.
The Superfoods in this blend:
Organic Turmeric. This beautiful golden coloured powder has been used in food for over 4000 years. It is derived from the Turmeric root and has been a core component of Ayurvedic medicine. We choose to use a certified organic turmeric, unadulterated with a high curcumin value rather than an extract as we believe this pays tribute to the synergistic value of the whole food. The high curcumin value of 5.32% gives a deeper, richer colour and flavour to the turmeric.
Tasmanian Pepperberries. Why would we use ordinary black pepper when we have access to our very own Australian native mountain pepper berries? It has a good pepper kick whilst giving off a nice herbal flavour too. Pepper and turmeric work really well together so it is no accident that we chose to combine these two beauties.
Organic Ashwagandha. This is by far one of the most popular Ayurvedic herbs, having been used for thousands of years as a powder mixed with warm milk and honey. It is known as an adaptogenic herb and has a unique astringent flavour which works remarkably well in this broth.
Organic Ginger. A good broth has to have a bit of zing and this is where ginger comes in. It is one of the most common ingredients in the kitchen and no doubt you have reached for it not just when you are cooking but also when you have the sniffles. We have seen this standard kitchen staple used in teas as a digestive and even in desserts and candies so of course we would use it in our broth.