Product Description
Tea and in particular matcha green tea is #9 in our Top 10 Skin Super Foods!
Matcha Green Tea contains epigallocatechin gallate (EGCG) which is a powerful antioxidant, as well as chlorophyll and other catechins and polyphenols which can help reduce inflammation and oxidation – slowing the visible signs of ageing
Beauty Benefits of Matcha Green Tea
Matcha Green Tea contains high levels of EGCG (Epigallocatechin Gallate), a powerful antioxidant that helps to reduce UV damage, slow collagen breakdown and improve skin cell regeneration for more youthful looking skin

It also contains chlorophyll, an antioxidant that helps support liver detoxification and has been shown to help clear skin and reduce UV damage

L-Theanine in Matcha Green Tea has been shown to counteract the effects of caffeine on the system and to increase serotonin and dopamine production. This helps to boost mood and concentration as well as bringing about a more calm and relaxed state

The ritual of taking time out to sit down for a cup of tea helps with stress reduction and relaxation, important for calming and smoothing skin

You can also use Match Green Tea topically! In studies it's been shown to reduce redness, protect against UV damage and to reduce oil production and suppress the growth of acne causing microbes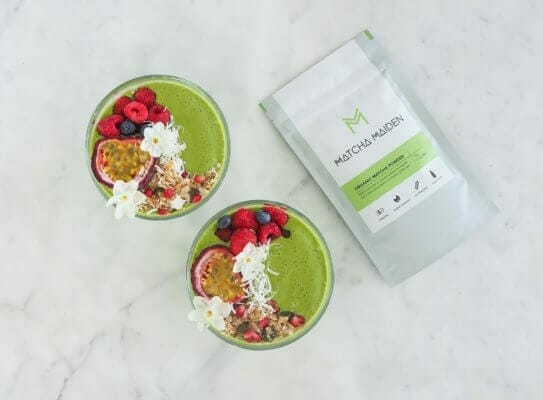 Product Description
Matcha Maiden searched far and wide to source a beautiful blend of 100% pure matcha from the lush rolling hills of Uji in Kyoto, Japan – the mecca of the matcha world.
Consisting only of pure green tea leaves stone ground into a fine but densely nutritious bright green powder, Mix N Matcha is Japanese certified organic and filled with so much green goodness that it has up to 137 times the antioxidants and 10 times the nutritional equivalent of regular green tea.