Product Description
Taking a 3-minute breathing space when you're feeling stressed, strung out and stuck in your head can help to break negative thought patterns, leaving you feeling calmer and more grounded in the present moment. So you can smoothly move onto the next phase or task in your day.
This 3-Minute Breathing Space guided audio is a really useful mindfulness tool for anytime you're feeling anxious, frustrated, angry or overwhelmed.
You can take a brief time out from your day or a mindful pause with this quick guided audio.
Simply follow the instructions, close your eyes and mindfully observe your body, your feelings and your thoughts. Letting yourself experience them all, without judgment as you watch them come and go.
This 3-Minute Breathing Space guided audio will help you to reconnect to the present moment and give you some breathing space to short circuit habitual thought patterns …helping you choose how you're going to think, act or react in the next moments of your day, instead of just operating in autopilot.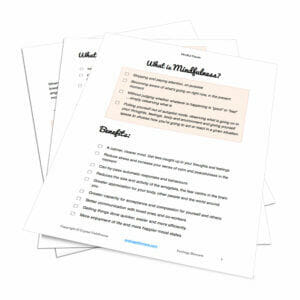 This audio also comes with a Bonus Mindful Pause PDF outlining:

What Mindfulness is
Benefits of Mindfulness
Ideas for taking mindful pauses throughout the day to let the air out of your stress balloon
Written instructions for the 3-Minute Breathing Space
SaveSaveSaveSave